Shooting, swordsmanship marks Jadeja's wedding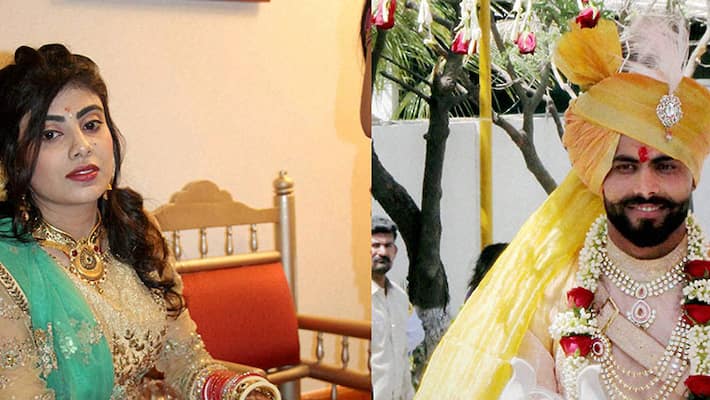 Cricketer Ravindra Jadeja today tied the nuptial knot with Riva Solanki here in a ceremony where a reveller opened celebratory firing in the air, prompting the police to launch an inquiry.


The 27-year-old left-handed batsman, who wore a 'Sherwani' and 'Kathiawadi saafa', riding a horse, a sword dangling by his side, looked totally at ease during the marriage procession.
Riva, 25, a mechanical engineer and daughter of a local contractor, looked resplendent in a a red and golden bridal lehenga with ethnic Gujarati embroidery. She teamed up her wedding attire with the traditional gold jewellery having minarki detailing. Riva later changed into a peach and golden dress.
 
As the marriage procession was moving, apparently one of Jadeja's relatives, who was within a few feet of the horse-mounted cricketer, was seen firing in the air from his revolver.

No one was injured, but cops arriving at the scene said it's illegal to use even licensed firearms except in cases of self-defence.

 

"We have initiated inquiry to find if the revolver used was licenced or not. We will decide on taking action after investigation," said Rajkot (Rural) Superintendent of Police Antrip Sood.
 
The marriage was conducted in traditional 'Kshatriya' style, with his relatives and friends attending it, even though his team-mates from Indian Premier League (IPL) franchise Gujarat Lions could not make it on time for the rituals in view of the ongoing IPL matches.



However, the team members, including Dwayne Bravo, skipper Suresh Raina, among others, arrived here for the reception.They could not arrive in the city on time following their yesterday's match against Mumbai Indians, in which Jadeja did not play.
 

Players and office bearers from Saurashtra Cricket Association also attended the marriage.

Jadeja, known for his flamboyance, was also seen displaying his dancing skills with the sword at the 'sangeet sandhya', a musical evening organised yesterday.

A video of the event went viral on the social media where Jadeja was seen showing his skills with sword amid cheering by guests.
Last Updated Mar 31, 2018, 6:41 PM IST