India's largest indoor stadium to come up in Kolkata
The stadium is will accommodate up to 15,400 people at one time.
The entire unit is spread across ten acres of land.
It will be coming up near HIDCO Bhawan.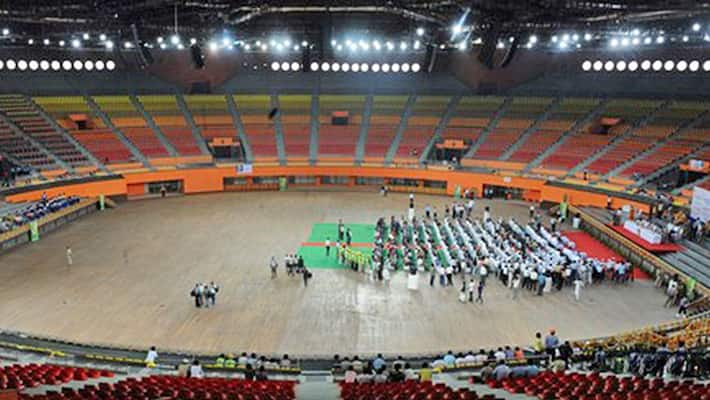 With this capacity, the arena, which is proposed to come up in the New Town area, will be larger than Indira Gandhi Arena or Indira Gandhi Indoor Stadium in New Delhi, which has a capacity to accommodate 14,348 spectators at one go.
In pics: Eden Gardens no longer India's largest cricket ground
"The proposed indoor stadium's capacity will be 15,400, more than Indira Gandhi Indoor Stadium's capacity at Indraprastha in New Delhi which can accommodate 14,300 people," HIDCO Chairman Debashis Sen said.
The capacity of the city's Netaji Indoor stadium is 12,000.
Keeping in mind West Bengal Chief Minister Mamata Banerjee's Green City Project, the proposed stadium will have solar power and will come up on ten acres of land near the Deer Park in Eco Park.
The facility will have lawn tennis, 'Kho Kho', 'kabaddi', badminton, basketball and table tennis courts, Sen said.
"The project is in the planning stage. A design has been prepared as per instructions of the Chief Minister. The HIDCO board has passed the design during its recently held meeting and now the design will be forwarded to the state government for approval," he said.
The stadium will have four entrances for vehicles and four entrances for pedestrians with lifts to carry players and VIPs. There will also be two gymnasiums and changing rooms for players, Sen said adding, the area under the stadium will be rented out to various offices for commercial purpose aimed at generating revenue.
New Town will also get a state-of-the-art Biswa Bangla Convention Centre. Construction work has already started with a completion target of March 2017 and HIDCO officials claimed the centre will be the largest convention centre in eastern India.
"The convention centre, as per our information, will be the largest convention centre of its kind in the country, with the main single conference hall having a capacity to accommodate 3,000 people," Debashis Sen said.
This means Biswa Bangla Convention Centre's main conference hall will be bigger than Mumbai's Sivaswamy Auditorium (1,301 seats), Kalidas Natya Sabhagriha (1,500 seats), Homi Bhaba Auditorium (1,036 seats), Delhi's Siri Fort Auditorium (1,865 seats) Vigyan Bhawan (1,285 seats) and Chennai's Kamraj Memorial Hall (1,500 seats).
"Our focus is to create a global network and promote conference tourism in the state. The centre will be more like the convention centres at Hanover and Dusseldorf in Germany.
The expositions and conferences that will be held in the centre will generate revenue for the state," Sen said.
The convention centre will have two auditoriums, six banquet rooms, seminar rooms, exhibition area, various types of restaurants, swimming pool, library, board rooms, book shops and spa.
The entire unit is spread across ten acres of land and is coming up near the HIDCO Bhawan.
Last Updated Mar 31, 2018, 6:45 PM IST