The BCCI is expected to announce the name of the new Indian head coach today.
Ten people have applied for the interview, out of which six will be called for the interview today.
The top three contenders out of the six will be Ravi Shastri, Tom Moody and Virender Sehwag.
Finally, the time has come for BCCI to announce the name of the new Indian head coach. The three members of Cricket Advisory Committee will be holding an interview today for assigning the high-profile job.
So far ten people have applied for the interview -  Ravi Shastri, Virender Sehwag, Tom Moody, Richard Pybus, Dodda Ganesh, Lalchand Rajput, Lance Klusener, Rakesh Sharma (Oman national team coach), Phil Simmons and Upendranath Bramhachari (an engineer with no cricketing background).
Out of these ten candidates, who have mixed talents, only six candidates will be attending an interview today. According to BCCI sources, the top six people might include Shastri, Sehwag, Moody, Simmons, Pybus and Rajput.
However, the three top favourites might have upper hand against the other three applicants. Here's a look at those three candidates and their CVs.
Ravi Shastri: Before Kumble was posted as the Indian head coach, Shastri led the Indian team as a manager. He was part and parcel of the Indian team which went until the semi-finals of the World Cup 2015.
Besides this, Shastri is more aware of dressing room culture than anyone else. Not restricting his career as a commentator, Shastri had received the warm welcome from the players as a manager.
Gaining the captain's favour seems to be a very important task for an Indian coach. Shastri received support from Virat Kohli and speculations exist that Kohli might back Shastri as the new head coach.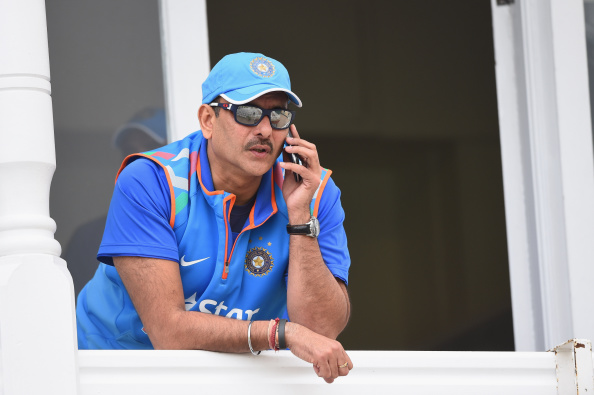 Tom Moody: Hailing from Australia, Moody was the face of Sri Lankan cricket since his arrival as a trainer in 2005.  He made the young team of Sri Lanka turn things around in 2007 World Cup, where it reached the finals. Moody did not stop after bidding farewell to Sri Lanka.
He went on to uplift the not-so-favourite Sunrisers Hyderabad in IPL. Under his expertise, Hyderabad also won their IPL in 2016. Well-known for his composure as a leader who can go well with any captains, Moody will be one among the preferred individual for head coach post.
Virender Sehwag: His fearless attitude is praised even today as a former opening batsman for India. Virender Sehwag's sense of humour in social media has always made him connect well with the present generation of Indian cricket. His attitude shall undoubtedly gel well with the current, aggressive, captain Kohli.
But his profile does not talk much about numbers. He has not given remarkable things to remember for Kings XI Punjab as a mentor. This is one of the drawbacks for Viru who can be considered the least desired among the top three contenders.