In pics: India's 8-member injured Test team
Rahane is the latest Indian player to get injured.
So far a 8 players have suffered an injury since India's Test season began.
India will face England in the fourth Test from tomorrow.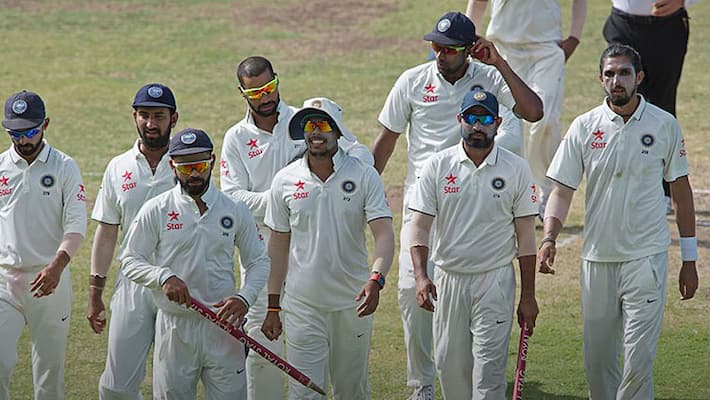 Following the ICC World T20 and IPL 2016, India so far have played Test series against West Indies, New Zealand and now home series against England is underway.
A total of eight players have got injured at some point in time, with Ajinkya Rahane being the latest victim. Rahane, who was the only player who has played all Tests under Kohli's captaincy, will finally miss a Test.
India after three Tests are leading 2-0 against England in their ongoing five-Test series. The fourth Test is at Rahane's home ground, Mumbai, where the hosts will aim to wrap the series with a victory. 
Here is India's 8-member injured Test team of 2016:
Ajinkya Rahane:
The Mumbai cricketer suffered a blow on his finger during his net sessions ahead of the fourth Test between India and England.
KL Rahul:
The Karnataka cricketer was briefly out of action after he injured his hamstring during India's home series against New Zealand in October. 
Shikhar Dhawan:
The opening batsman injured his thumb during the same period when Rahul was out. The injuries to these two made way for Gautam Gambhir to make his comeback to teh Test team after two years.
Bhuveneshwar Kumar:
The pacer sustained a back strain during India vs. New Zealand, second Test at Kolkata earlier in 2016. He is yet make a comeback.
Rohit Sharma:
Rohit was ruled out for a considerable period of time due to a thigh injury that he suffered during the final One-Day International against New Zealand in November. 
Hardik Pandya:
The all-rounder whose selection for England series came as a surprise but before he could make his Test debut, he suffered an injury to his right shoulder and was released form the squad.
Wriddhiman Saha:
The wicketkeeper-batsman strained his left thigh during the second Test against England in Vizag missed the third Test and will remain out until he recovers completely. Parthiv Patel has replaced him in the squad. 
Mohammed Shami:
The injury prone fast bowler during his net sessions ahead of the Mumbai Test against England suffered a sore knee. Shardul Thakur was named his replacement.
Who's next?
Last Updated Mar 31, 2022, 1:03 PM IST