Former Zimbabwe cricket captain Heath Streak passes away at 49, wife confirms on social media
Heath Streak breathed his last on September 3. He was battling cancer before he passed away. Streak's death was announced by his wife, Nadine Streak, in a post on Facebook. In a statement in May, Streak's family said the former cricketer was undergoing treatment in South Africa and asked for privacy.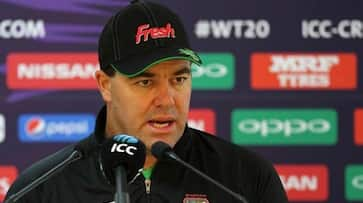 Former Zimbabwe captain Heath Streak, aged 49, passed away on Sunday morning. Streak was battling liver cancer for a long time. His wife Nadine Streak shared the sad news on social media, writing that 'the greatest love of my life was carried to be with the Angels'.
Taking to Facebook, Nadine Streak, the wife of Heath Streak, wrote: "In the early hours of this morning, Sunday the 3rd of September 2023, the greatest love of my life and the father of my beautiful children, was carried to be with the angels from his home where he wished to spend his last days surrounded by his family and closest loved ones. He was covered in love and peace and did not walk off the park alone. Our souls are joined for eternity Streaky. Till I hold you again."
Earlier in the month of May, it was reported that Streak was battling cancer and "undergoing treatment" under one of the renowned oncologists in South Africa.
The all-rounder was the all-time leading Test wicket-taker for his country. He took 216 wickets and scored 1,990 runs in 65 Tests between 1993-2005. He also played in 189 One-Day Internationals, scoring 2,943 runs and taking 239 wickets. After retiring from the sport, he took up coaching role but the illness brought him to bed. 
In 2021, he was given an eight-year ban from the sport after admitting breaches of the International Cricket Council's anti-corruption code. He took "full responsibility" for his actions but said he was never involved in any attempts to fix matches.
Last Updated Sep 3, 2023, 12:19 PM IST