Will Man City's win over Arsenal in FA Cup impact Premier League title race? Guardiola responds
Nathan Ake's goal made Manchester City the first team to reach the FA Cup fifth round but the performance of Mikel Arteta's mix-and-match side indicated Arsenal could have staying power in the Premier League title race.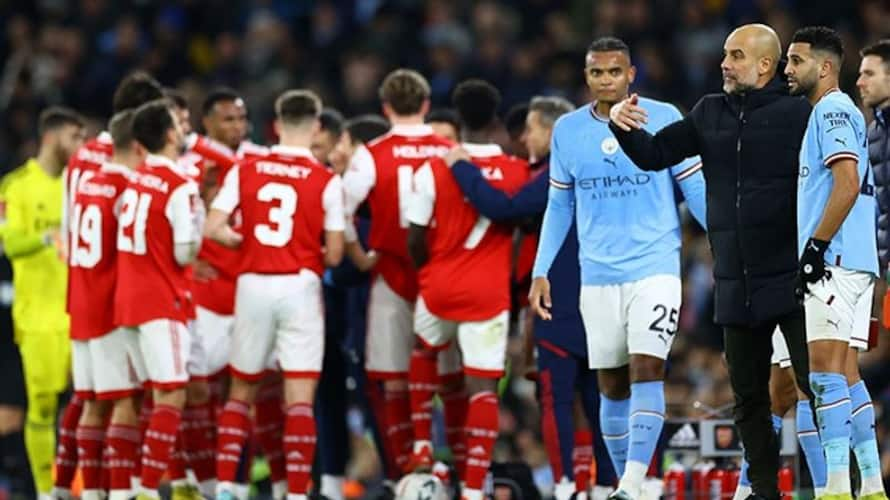 The FA Cup triumph over Arsenal on Friday night was a reason for celebration, but Pep Guardiola rejected claims that Manchester City's 1-0 victory would have any bearing on the Premier League title chase.
City advanced to the fourth round of the FA cup thanks to a goal from Nathan Ake in the 64th minute, but not without a fight. Guardiola said that he was startled by Mikel Arteta's tactics, which Arsenal's man-to-man tagging caused to disrupt City's flow.
"It was a tight game, a difficult opponent," Guardiola said. "The second half was better apart from 10 minutes after the goal."
"I didn't expect this approach, the man-to-man. It made the process difficult. In the second half, we had to contact more than usual with Erling (Haaland), which is what we had to do. But it is a victory; the next round, we will see what we have to do," the Man City boss added.
City frequently distributed the ball long, especially in the first half, as they attempted to get past Arsenal's siege. However, Haaland struggled to hold the ball up, which did not play to his strengths, and before halftime, Arsenal had the better opportunities.
Just before the hour, Julian Alvarez and Kyle Walker were introduced, which proved to be a turning point, allowing City to find a way through. Jack Grealish recovered the ball and set up Ake for the goal after the Argentinian's long-range attempt bounced against a post.
Also read: FA Cup: Old footage of Guaridola's assistant Arteta not celebrating Man City's goal against Arsenal goes viral
City, who trail Arsenal by five points in the Premier League, head to the Emirates on February 15, but Guardiola said he thought this result would have little bearing.
"I am pretty sure both teams are going to adjust something," he said. "I have the feeling now they are going to do something differently."
Arteta concurred, but he also acknowledged that City had found fault with his team.
"At the moment, it's a disappointment because we are out and we could have taken much more from the game, but we didn't," the Arsenal boss said. 
"I feel we really competed against them and made it difficult, but we lacked something to win against a team like this. We have taken the chances in big matches this season, and that's why we have beaten all the big teams, but unfortunately, today we didn't, and we didn't defend the action well enough in the box when Ake scored. We had three or four big openings but we have to be more ruthless and put the ball in the net," Arteta added.
Even though Moises Caicedo, 21, appeared to be saying farewell to the Brighton Seagulls on social media, Arteta refused to comment on the possibility of signing him. However, the need for a midfielder increased as Thomas Partey was forced to leave the game with an injury at halftime.
"He had some discomfort and it was getting worse and worse," Arteta said. "He was uncomfortable to continue. (Saturday) or the day after he will have an MRI scan and see what he has."
"We have at the moment the injury of Mo (Elneny). It is not possible to get him fit. (Albert) Sambi has come in and has done well. It is true Thomas is a big influence and a big personality and in the second half we didn't have him," the Arsenal boss added.
John Stones, an English defender, was pulled off the field just before halftime with what appeared to be a hamstring injury, which added to City's injury woes for the evening. "I don't know (how serious it is)," Guardiola said. "Today he was not ready. I saw it from the first minutes. Maybe he was tired but he was not ready and when this happens you get injured."
Last Updated Jan 28, 2023, 2:20 PM IST