WATCH: Lionel Messi celebrates 8th Ballon d'Or trophy with Inter Miami fans amid 'Messi, Messi' chants
Lionel Messi received a warm reception from Inter Miami fans during their friendly against New York City FC as they chanted the Argentinian superhero's name as they celebrated his 8th Ballon d'Or win.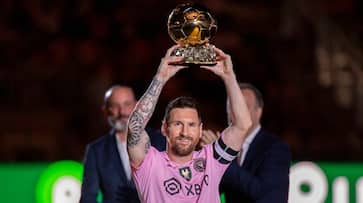 Inter Miami honoured Lionel Messi's eighth Ballon d'Or on a celebratory night that ended with a 2-1 loss to MLS rivals New York City FC in a friendly clash. Despite the defeat, Messi expressed gratitude for the warm welcome he and his family received in Florida. The DRV PNK stadium was nearly filled with fans chanting "Messi! Messi!" as he raised the Ballon d'Or trophy collected in Paris. Messi, who joined Inter Miami in July, led the team to the Leagues Cup title in August but couldn't secure a spot in the MLS Cup playoffs due to a late-season leg injury.
Messi thanked the people of Miami for their affection and making him feel at home. He acknowledged the short time he's been in Miami but emphasized the strong connection he feels with the city. 
"Thank you for being here, for this beautiful tribute," Messi said after raising the Ballon d'Or trophy. "I have been here for a short time, but it seems like a lot of time. I want to thank all the people of Miami, not only those who are here, but in the city in general, for the treatment I and my family have received during this time. They showed me a lot of affection, they made me feel at home."
Upon his arrival at Inter Miami in July, the 36-year-old superstar was greeted with an enthusiastic welcome. He played a pivotal role in propelling the struggling franchise to clinch the Leagues Cup title in a tournament featuring MLS and Mexican league clubs in August.
Making his debut in the MLS regular season for Miami on August 26 as a second-half substitute, Messi scored a goal in Inter's 2-0 victory against the New York Red Bulls, putting an end to an 11-match winless streak.
However, hindered by a late-season leg injury, Messi was unable to elevate Miami from the league cellar, resulting in the team missing out on the MLS Cup playoffs.
Nevertheless, he has brought immense excitement to the US league, evident in a surge in jersey sales and an increase in MLS season pass subscriptions and ticket sales at every Miami game.
In the late stages of Friday's match, fans continued to chant for Messi, although he couldn't deliver an equalizer. The game concluded with a victory for NYCFC, featuring goals from Talles Magno and Julian Fernandez.
Messi's most recent Ballon d'Or recognized achievements that occurred well before his transition to MLS, particularly highlighting his inspirational performances at the last year's World Cup in Qatar. He scored seven goals and was honored as the tournament's best player, playing a pivotal role in leading Argentina to victory.
However, Messi expressed his determination to enhance Miami's success by building on their Leagues Cup triumph in the upcoming season. He emphasized the club's commitment to defending the title and participating in the US Open Cup and CONCACAF Champions Cup alongside their MLS campaign.
"I had no doubt that we were going to have a good time, that we were going to enjoy ourselves and today I have even less doubts that next year is going to be much better," he said.
Last Updated Nov 11, 2023, 1:44 PM IST