Saudi Pro League 2023-24: Michael Emenalo anticipates January moves amid persistent Mo Salah transfer talks
The director of football for the Saudi Pro League, Michael Emenalo, hints at potential developments in the January transfer window, specifically addressing the ongoing speculation surrounding Liverpool's Mo Salah.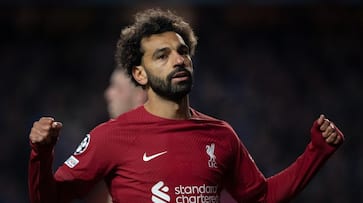 Michael Emenalo, the current director of football for the Saudi Pro League, is anticipating developments in the January transfer window, particularly regarding Liverpool's Mo Salah. Emenalo, who holds a prominent role in the league, witnessed a significant influx of top-tier players during the summer, with names like Roberto Firmino, Fabinho, Jordan Henderson, Gini Wijnaldum, and Sadio Mané making moves to the Saudi Pro League.
While there were speculations about Mo Salah potentially becoming the star attraction with a record-breaking transfer fee, nothing materialised in the summer. However, Emenalo's remarks in October, expressing Salah's welcome at any time, hinted at ongoing interest. In a recent statement, Emenalo revealed his hope for a quieter January transfer window, emphasising the importance of redirecting attention to investments in training facilities.
"I'm hoping [January] is not very busy because I think the job that was done has been quite interesting and aggressive, and most of the clubs, I believe, have what they need," Emenalo stated. He emphasized the focus on enhancing training facilities, allowing players time to adapt and perform. While not ruling out potential additions, Emenalo highlighted the league's commitment to bringing talented individuals to the Kingdom of Saudi Arabia.
Although Emenalo is not actively seeking massive signings, he leaves room for possibilities, considering the league's needs and potential bids, especially with Neymar's injury leaving Al-Hilal without a superstar. The speculation around Mo Salah's future remains, with the potential for bids either in January or the upcoming summer transfer window.
Also Read: Kane Williamson addresses pitch swap controversy in the World Cup semi-final against India
Last Updated Nov 16, 2023, 9:02 PM IST