Kane Williamson addresses pitch swap controversy in the World Cup semi-final against India
New Zealand captain Kane Williamson responded to the 'pitch swap controversy' surrounding the Cricket World Cup 2023 semi-final against India, acknowledging the use of a previously used wicket.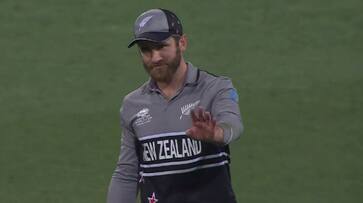 Kane Williamson downplayed discussions surrounding the 'pitch swap controversy,' acknowledging that the India vs New Zealand World Cup semi-final took place on a previously used surface. Leading up to the Cricket World Cup 2023 semi-final clash between India and New Zealand, a controversy emerged, accusing the Board of Control for Cricket in India (BCCI) of last-minute pitch changes to favor India. When questioned about this in the post-match press conference, New Zealand skipper Kane Williamson played down the controversy.
During the press conference, Williamson conceded that the wicket was indeed used, but emphasized its quality, stating that New Zealand had no objections.
"No, I mean, yeah, it was a used wicket, but a pretty good surface, as we saw. I mean, they got plenty out of it in the first half of the match. And conditions, I guess they change as they go under lights and things, and that's what we've seen throughout this competition. That's fine, that's what you expect, and they played really well. So yeah, I mean, it's disappointing to get to this stage and not go further, but also at the same time, you sort of reflect on the seven weeks rather than a couple of small moments, and we lost to a better side," he responded to a reporter's inquiry.
Williamson also hailed India as 'the best team in the world,' expressing confidence that they will enter the final with a strong mindset.
"They're the best team in the world, and they're all playing their best cricket, so that's tough. And I think we see in cricket - often it's surrounded with failure and how you deal with it. The way they've played throughout this tournament has been incredible. They haven't missed a beat really, and to come into a semi-final, you go through your round-robin, and you try and get to the stage, and it starts again, but the way they came out and played shows the mindset that they have and the space that they're in, and I've got no doubt they'll go into that next match full of confidence," said the Kiwi skipper.
Also Read: Virat Kohli's romantic gesture in the World Cup semi final at the Wankhede stadium
Last Updated Nov 16, 2023, 5:10 PM IST