MLS 2023-24: Lionel Messi's potential return boosts Inter Miami's playoff hopes
Lionel Messi's eagerly anticipated return to Major League Soccer could provide a much-needed boost to Inter Miami's fading playoff dreams. With Messi's injury woes and Inter Miami's recent struggles, the team faces an uphill battle to secure a postseason spot in the Eastern Conference.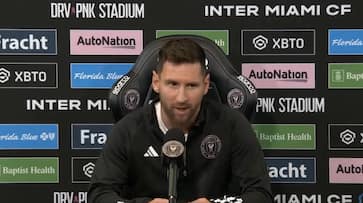 Lionel Messi may return to Major League Soccer action this Saturday, aiming to revitalise Inter Miami's dwindling playoff aspirations. Messi's presence has been minimal, as he played just 37 minutes since September 3 due to an injury sustained during international duty with Argentina. Inter Miami has struggled in his absence, enduring three winless league matches and losing the US Open Cup final to Houston. Despite a 4-1 loss to Chicago on Wednesday when Messi was absent, hope of his return grew after he trained on Thursday and Friday.
Assistant coach Javier Morales provided no hints about Messi's potential starting status, stating, "We have to evaluate him day by day. He trained yesterday, he will train today, and afterwards we will surely make a decision. But every day he is doing better."
Inter Miami's playoff aspirations now seem unlikely, as they sit second to last in the Eastern Conference, trailing the ninth-place playoff spot by five points with only three games remaining. While they have a game in hand on most rivals for that spot, their fate is no longer solely within their control.
Cincinnati, leading the MLS, has already secured the Supporters' Shield for the best regular-season record and top seed with home-field advantage throughout the playoffs. They rested key players in a recent match against New York Red Bulls, and coach Pat Noonan must decide whether to recall them for the game in Fort Lauderdale.
Saturday marks the penultimate round of MLS action for most teams, with a few playoff spots up for grabs, and the quest for a top-four finish and home-field advantage in the first playoff round remains crucial. In this season's format, the eighth-place team in each conference will host a single-game wildcard match against the ninth-place finisher, with the winners progressing to round one, featuring best-of-three series and potential home-field advantages for the top four teams in each conference.
Also Read: Zlatan Ibrahimovic reveals best player he's ever seen, gives verdict on Haaland vs Mbappe and more - WATCH
Last Updated Oct 7, 2023, 1:13 PM IST