'Leave CR7 alone': Ronaldo fans appeal after Al-Nassr denies icon's World Cup 2030 bid commitment
Earlier, reports claimed that legendary striker Cristiano Ronaldo's contract with Al-Nassr includes a bonus to help Saudi Arabia's bid to host the FIFA World Cup 2030.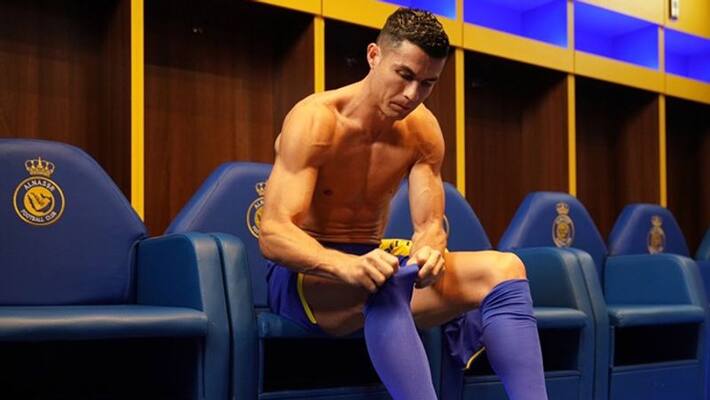 Legendary striker Cristiano Ronaldo has been hitting the headlines since he joined for Saudi Arabian club Al-Nassr last month. The Portuguese talisman, awaiting his debut for his new club, signed a multi-million-pound contract after failing to find suitors in Europe.
According to reports, the 37-year-old striker will be paid 175 million pounds annually until 2025. However, there were also rumours that Ronaldo's contract includes an additional bonus of another 175 million pounds to help bring the FIFA World Cup 2030 to Saudi Arabia.
Also read: Ronaldo to pocket additional 175 million pounds for promoting Saudi Arabia's World Cup 2030 bid?
However, Ronaldo's new club Al-Nassr have denied these rumours and stated that the Portuguese legend's focus is on the club and taking it to greater heights.
"Al Nassr FC would like to clarify that contrary to the news, Cristiano Ronaldo's contract with Al Nassr does not involve commitments to any World Cup bid. His main focus is on Al Nassr and working with his teammates to help the club to achieve success," wrote the Saudi Arabian team on Twitter.
Portugal, alongside Spain and Ukraine, is also gearing up to compete for hosting rights for the FIFA World Cup 2030. While Portugal and Ukraine have yet to host a World Cup, Spain has done so in the past. Egypt, Greece, and Saudi Arabia are the other bidders in this competitive three-continent event.
Ronaldo, who is currently serving a two-match FA ban over the infamous Everton incident last season, is expected to make his Al-Nassr debut against Al-Ettifaq on January 22 in the Saudi Pro League. However, the five-time Ballon d'Or winner can debut on Saudi soil on January 19 against arch-rival Lionel Messi when Paris Saint-Germain (PSG) will face a combined XI of Al-Nassr and Al-Hilal stars at the Riyadh Season Cup friendly exhibition.
Also read: Ronaldo's 'work mode' on: Al-Nassr supporters impressed by legend's dedication as he awaits debut
Following Al-Nassr's strongly worded statement, Ronaldo fans took to Twitter to appreciate the club for supporting their icon. Some supporters also appealed to the European media to leave CR7 alone and not spread fake news about the Portuguese legend.
"Corrupt/biased media still chasing him even after he left Europe, spreading lies, fake news and malicious clickbait headlines to feed the trolls and CR7 antis. He's media's bread & butter. They will go hungry and homeless without him," noted one fan on the micro-blogging site.
Another added, "Great that you clarified. My Idolo is getting his bags for his footballing ability only," while a third stated, "He left Europe and their corrupt media, yet they don't want him to breathe. Corrupt Europe and their Corrupt media Should leave CR7 alone."
Also read: Will it be Ronaldo vs Messi in Saudi Arabia? Al-Nassr coach Rudi Garcia gives ultimate response
Here's a look at some of the reactions to Al-Nassr's clarification of the no involvement of Ronaldo in Saudi Arabia's bid to secure hosting rights of FIFA World Cup 2030:
Last Updated Jan 11, 2023, 1:39 PM IST