Jude Bellingham's ambitious career goals: Real Madrid, Trophies, and the Ballon d'Or
Football sensation Jude Bellingham outlines his ambitious career goals, which include a plethora of trophies with Real Madrid and even a potential Ballon d'Or win.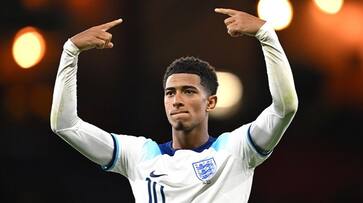 Jude Bellingham has articulated his detailed career aspirations for both Real Madrid and the England national team as he continues to make a remarkable impact at the Spanish club. After his stellar transition from Borussia Dortmund to Los Blancos for an initial €103 million, Bellingham's exceptional performance in Spain has not gone unnoticed. Having already played 13 games in various competitions for Real Madrid this season, the midfielder has impressively netted 13 goals, including crucial late match-winners, and contributed three assists. His most recent feat was a sensational brace that secured a 2-1 victory against Barcelona in El Clasico.
Following his accolade as the recipient of France Football's Kopa Trophy, Bellingham engaged in a discussion with them and L'Equipe, revealing his strategic outlook for the immediate and near future with Real Madrid and the English national squad. When questioned about his ambitions for the next five years, Bellingham expressed, "I aim for five Champions League titles, a European Championship, and, perhaps, a World Cup. I always maintain an optimistic outlook. I see no reason to compete while expecting defeat. Every year, you must enter each competition with the belief that you can emerge victorious. Otherwise, what's the point? Thus, quantifying specific titles becomes challenging. I prefer to focus on consistently delivering strong performances and playing my game. In five years, if my family remains healthy and content, that's what matters most."
Subsequently, Bellingham was asked if he aspires to win a Ballon d'Or during that period, akin to some of Real Madrid's most illustrious players. He responded, "It would be an incredible honor. Following in the footsteps of players like Luka [Modric], [Cristiano] Ronaldo, [Zinedine] Zidane who have won the award would be a remarkable achievement."
Bellingham's exceptional performance in the early stages of the 2023/24 season has placed him at the forefront of contenders for next year's Ballon d'Or. With Real Madrid leading La Liga and being one of the favorites to secure the Champions League, his ascent in the football world is nothing short of remarkable.
Also Read: Six outstanding managers who declined Manchester United: Klopp, Guardiola, Wenger and more
Last Updated Nov 3, 2023, 12:47 AM IST