Manchester United takeover: Jim Ratcliffe set to 'buy 25% stake' after Sheikh Jassim's withdrawal from race
Billionaire Jim Ratcliffe and his company, Ineos, are on the cusp of securing a significant milestone in football acquisitions. Their bid to purchase a 25% stake in Manchester United is set to be formalised during an imminent club board meeting.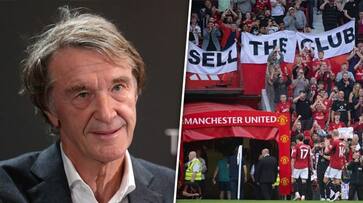 Jim Ratcliffe and Ineos are on the verge of acquiring an initial 25 percent stake in Manchester United, a decision that is set to be formalized during an upcoming club board meeting this week. The billionaire petrochemicals magnate envisions this as a stepping stone towards gaining a majority stake, aiming to exert influence over football-related decisions.
Despite Sheikh Jassim's confirmed withdrawal on a Saturday evening, it is viewed as a strategic move to save face, considering the Qatari bid lacked impact and was tactically surpassed by Ineos. Those familiar with Ratcliffe's bid had long believed that Avram and Joel Glazer would never agree to a full sale, preventing the unanimity necessary for the transaction and prompting the Ineos bid to explore alternative avenues.
Ratcliffe's decision to pursue a 25 percent minority stake, valued at approximately £1.3bn, marked a significant breakthrough in the past month. This approach helped allay concerns about potential legal challenges, especially if he had pursued the Glazers' 67 percent ownership. The owners of A shares had been prepared to engage in litigation if Ratcliffe chose to purchase the more influential B shares. However, he has opted for a combination of both.
Contrary to Qatar's firm stance on a complete buyout, their offer of around £5bn was consistently viewed as surprisingly low. Stakeholders found it perplexing why the Jassim-led bid did not increase its bid, considering the prestigious stature of the club. Some insiders from the Qatari side suggested that part of the reluctance stemmed from a desire to secure a perceived good deal without overpaying.
Ironically, Joel and Avram Glazer have been hesitant to sell due to their anticipation of a significant increase in the club's valuation over the next decade.
Also Read: Fact Check: Has Cristiano Ronaldo pledged support to Palestinians amid Israel-Hamas war? Here's the truth
Last Updated Oct 15, 2023, 7:06 PM IST