ISL 2023-24 season: Growth, stability and experienced coaches usher in a landmark 10th year
The article discusses the upcoming tenth season of the Indian Super League (ISL), highlighting its growth, stability, and the presence of experienced coaches, foreign and local, contributing to the league's development and the nurturing of Indian football talent.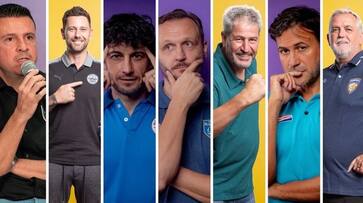 The Indian Super League (ISL) is set to kick off its tenth season with a highly anticipated opening match between Kerala Blasters FC and rivals Bengaluru FC in Kochi on Thursday.
Since its glamorous inauguration in Kolkata in 2014, the ISL has undergone significant growth and transformation. It has expanded both in terms of the number of teams and the increasing presence of Indian players on the field. These developments have propelled the ISL toward becoming a robust domestic league, fulfilling a vital role in Indian football.
Over the years, the league has seen a revolving door of players and coaches, particularly during its initial stages as it established its footing in the world of football. However, as time has progressed, both the league and its teams have found stability, significantly enriching the Indian football landscape.
As the ISL enters its historic tenth season, a clear indication of the league's stability is the number of head coaches who have remained in their positions for more than a year. The ISL has created an appealing environment for accomplished foreign coaches, not only attracting them to work in the league but also making it their home.
In the forthcoming ISL 2023-24 season, only four head coaches will be new to the league. Three head coaches are entering their third consecutive season with their respective teams, while four teams have appointed head coaches with prior ISL experience spanning more than a season.
Notably, six head coaches, including Owen Coyle at Chennaiyin FC, Carles Cuadrat at East Bengal FC, Manolo Marquez at FC Goa, Juan Ferrando at Mohun Bagan Super Giant, Des Buckingham at Mumbai City FC, and Sergio Lobera at Odisha FC, have achieved success by winning either the ISL Cup, the ISL Shield, or both with their current or previous clubs.
The willingness of these accomplished head coaches to establish and further their careers in the ISL reflects positively on the league. Sergio Lobera, for instance, emphasized the league's appeal: "It means a lot when a lot of people want to return to work here. It means that it's a good place to work." Lobera boasts a remarkable track record in the league, having secured the ISL Cup and League Shield double with Mumbai City FC in 2020-21.
Coaches like Lobera and Owen Coyle have also made significant contributions to the development of young Indian talent, underlining the league's commitment to nurturing local talent alongside international stars. Coyle, returning to Chennaiyin FC after previous success, expressed his belief in the growth of the ISL: "I think the ISL is growing every year. We certainly as coaches have an obligation to try and help to do that, and I think the development of the young Indian players is important now."
Manolo Marquez, another successful coach in the league, noted the challenge posed by the experienced coaching roster: "There are very good coaches now, coaches who have had success in the past. I am happy that all of them are back. I think it will be a nice competition. Maybe, now I can tell you, this will be the hardest season."
Even coaches like Carles Cuadrat, not originally from India, consider the ISL their home league. They bring a wealth of knowledge about what works best in the ISL and play a pivotal role in unlocking the potential of Indian players.
As each season progresses, both players and coaches in the ISL continue to improve and evolve. With a strong contingent of former champions eager to repeat their successes, ISL 2023-24 promises to be an exciting chapter in Indian football.
Last Updated Sep 20, 2023, 2:09 PM IST