ISL 2022-23: Bengaluru FC look to continue resurgence for playoffs as they take on rejuvenated Jamshedpur FC
Jamshedpur FC and Bengaluru FC will lock horns in the Indian Super League (ISL) 2022-23 on Wednesday at the JRD Tata Sports Complex in Jamshedpur.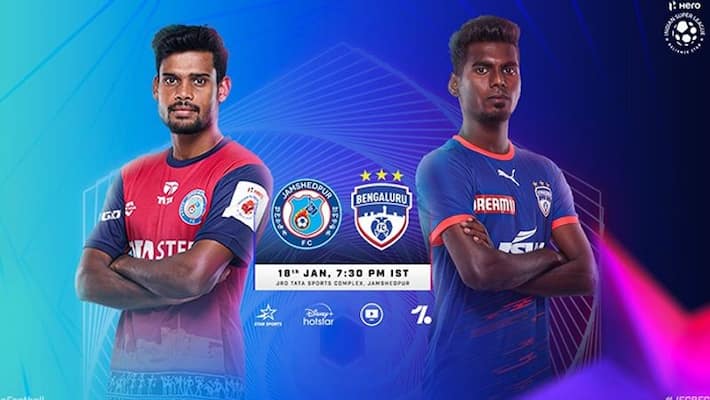 Jamshedpur FC and Bengaluru FC will lock horns in the Indian Super League (ISL) 2022-23 on Wednesday at the JRD Tata Sports Complex in Jamshedpur. The Red Miners want to tie East Bengal FC on points, while the Blues want to secure three points and reduce the gap between themselves and the final playoff berth to one point.
Jamshedpur FC ended a ten-game losing streak last week when they defeated East Bengal FC in a thrilling comeback triumph, turning the tables after falling down 1-0, to secure their second victory of the year.
Near the hour mark, head coach Aidy Boothroyd rolled the dice, and the right numbers appeared. His replacements had the desired effect and helped Jamshedpur FC score both goals. Before Ritwik Das gave Boothroyd's team the victory, Harry Sawyer scored his first goal of the year.
Daniel Chukwu, who has scored just once in his last ten Hero ISL appearances, may not get the start because to Sawyer's performance in the most recent game. Dylan Fox, a recent addition and Sawyer's countryman, might make his debut at the other end of the field if he recovers from a minor ache that held him out of the last match.
"Dylan Fox has had a number of niggles which we are monitoring. We have brought him in to play, but he has not featured yet. Hopefully, we can get him fit in the next few days", said Boothroyd, providing an update on the defender.
Speaking about the previous game, Boothroyd said, "It was very satisfying. We have come really close to winning games on multiple occasions, especially at home. Scoring in the closing stages of the game meant that we kept pushing till the end. I saw renewed confidence and maturity in the team."
Bengaluru FC are gaining momentum as a result of achieving two straight victories for the first time this year. When they defeated Odisha FC 3-1 just three days ago, the Blues scored more than two goals for the first time in this season of the ISL.
Before Roy Krishna broke his ten-game goalless streak, midfielder Rohit Kumar scored his first goal for the team. Pablo Perez scored his new team's first goal in the second half's last seconds. These kinds of incidents will undoubtedly boost the Blues' morale as they attempt to turn around their dismal season.
"Both teams have progressed over the past few weeks. Our results have certainly been better. Aidy is getting his team off a good win recently as well. Both teams want to climb higher and see how high we can finish in the league," said Grayson. "They can play different systems. New players have joined the club recently. We are fully focused on the opposition and what system they could play against us. But we have to concentrate on what we do as well and be clinical and not concede goals," he added.
The two sides have clashed 11 times in the ISL. Both sides have won four times each and three games have ended in a draw. The Blues have a chance to do a double over Jamshedpur FC this season as the reverse fixture ended 1-0 in favour of Bengaluru FC.
Last Updated Jan 18, 2023, 8:00 AM IST