Hansi Flick sacked as Germany boss after 4-1 shock loss against Japan; will Julian Nagelsmann replace him?
Hansi Flick was shockingly sacked as the coach of the German national team following a shocking defeat against Japan, less than a year before the Euro 2024 tournament.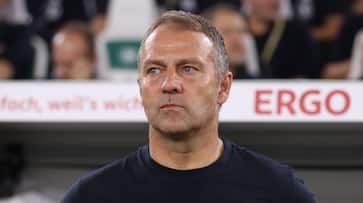 Hansi Flick was on Sunday shockingly sacked from his role as the coach of the German national team. Flick oversaw his final match for Die Mannschaft on Saturday, where they suffered a resounding 4-1 defeat against Japan. This heavy defeat proved to be the tipping point for the DFB (German Football Association), leading to Flick's sacking, less than a year before the Euro 2024 hosted in Germany.
Flick's tenure as the German coach has been marked by significant disappointments, notably the early exit of his team from the Qatar World Cup 2022 group stage. Despite this, the DFB initially retained confidence in Flick's leadership, but a recent string of poor performances, including four losses and one draw in their last five matches, ultimately sealed his fate.
Reports indicate that Rudi Voller will step in as interim coach for Germany's upcoming match against France on Tuesday. However, reports added that former Bayern Munich coach Julian Nagelsamnn is the favourite to replace Flick as Germany's head coach.
Following Germany's shocking 4-1 loss to Japan at home in their international friendly on Saturday, Flick had said he was still the right man to lead the team, despite mounting pressure following a string of bad results.
The German national team, renowned as four-time world champions, had envisioned the match as a fresh start just nine months before they were set to host the Euro 2024 tournament. However, it took an unfortunate turn, resulting in a debacle and their third consecutive loss, accompanied by disapproving jeers and whistles from their own fans.
"I know in football there is a dynamic and I cannot forecast what will happen but from my side we try everything to prepare the team well. I think we are doing a good job and I think I am (the right man for the job)," Flick had said.
"I am very disappointed and we have to admit that Japan have a very good team. We don't have the means to beat such a compact defence. We started well. But they score with their first chance, we come back and level and we felt the support, but then they score again. The second half there were too many individual mistakes," he added.
Last Updated Sep 10, 2023, 8:19 PM IST