Gary Neville vs Piers Morgan: War of words erupt after 'T-Bag' claims Arsenal won't win Premier League
Arsenal went eight points clear of second place Manchester City following their 2-0 victory against Tottenham Hotspur on Sunday in the Premier League. Yet, former Manchester United icon Gary Neville believes the Gunners won't win the title, sparking massive reaction from pundits and fans.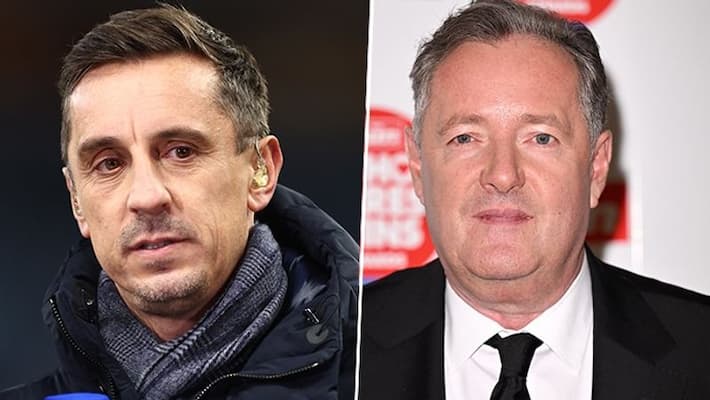 Arsenal are experiencing a dream run this Premier League season as the Gunners went eight points clear of second place Manchester City following their 2-0 win against north London rivals Tottenham Hotspur on Sunday. 
Also read: Supporters slam fan attack on Arsenal goalie Ramsdale; Tottenham's 'cry baby' Richarlison trolled
Following the win, former Manchester United icon Gary Neville sparked a massive debate after the football pundit claimed that Mikel Arteta's side wouldn't win the title despite their stellar form. The 47-year-old commentator also claimed that Erik ten Hag's resurgent side would finish above Arsenal in the Premier League table by the end of the 2022-23 season, with Manchester City clinching the title due to their superior squad depth.
Neville claimed on Sky Sports, "No (Arsenal won't win the league). But I said Leicester wouldn't win the league. They won't win the league. Manchester City will win the league, and I think Man Utd will finish second, and I know that will annoy Arsenal fans!"
However, he added, "I'd rather Arsenal win the league than Man City. I think it would be absolutely sensational for the Premier League. I think about watching the Premier League, we've seen City sweep up, apart from Liverpool, over the past five years. To think Arsenal could come and win it, it adds to our league, it makes our league great."
"I'd love Man Utd to win it, but I don't think that's going to happen this season," Neville concluded.
The former Man United legend's comments irked journalist Piers Morgan, who recently hit the headlines following his explosive interview with legendary striker Cristiano Ronaldo. Morgan slammed Neville and challenged him to a charity bet over the latter's claim that Arsenal wouldn't win the Premier League title.
"Pipe down T-Bag. I bet you £5000 to charity that Arsenal finish higher in the league," tweeted Morgan.
The 'T-Bag' reference stems from Neville's revelation that his teammates had chosen this nickname due to the perceived similarities between him and the iconic villain in the US drama series Prison Break.
Pep Guardiola's team has recently experienced a wobble, dropping points against Premier League strugglers Everton and losing their past two games to Southampton and Man United.
Neville believes Man City could turn things around and finally defeat Arsenal due to the strength and depth of their team.
"The reality of it is, I think at some point Man City will hit a run. Once they do, they've got to play Arsenal twice. If Erling Haaland starts to kick on, if City start to purr, if the defence starts to shore up a bit more than it has done, and they need Ruben Dias back if they can, I think City will win it," he explained.
"At some point, there will be a very difficult period for Arsenal this season. Is it conceivable that Arsenal are going to continue as they are? I don't think it is. Could they draw two and lose one in a three-game period, and if they did that, their lead is gone, and the pack is up with them?" Neville added.
"That's what I think is going to happen, we'll see a traditional Premier League season where a team goes out, the pacemaker, and then they'll get drawn back in a little bit," he concluded.
After United's dramatic 2-1 triumph over Man City on Saturday, they are now unbeaten in nine games across all competitions. They travel to Arsenal next Sunday in another test to Arteta's high-flying outfit - who have lost just once in 18 Premier League games this season. One may recall the only game the Gunners have lost this season was against Erik ten Hag's men at Old Trafford in September.
Meanwhile, Arsenal fans lashed out at Neville for his comments against Premier League table toppers, with some addressing the former United icon as 'clown'. 
"Happens every single time, rants about the owners and expects everyone to feel sorry for them then win a few games and get back to that arrogant attitude he has. Give this a few months and he'll be back to crying on tele again. #NUFC literally went above them yesterday," noted one fan on Twitter.
Another added, "This guy is trying to build the pressure for our team and try to put expectations. We started the season with the aim of being back in champions league but this team is just doing exceptional. One game at a time, we enjoy the moment. Let's stay humble, our future is bright."
Here's a look at how fans reacted to Gary Neville's comments:
Last Updated Jan 16, 2023, 3:58 PM IST