Emotional Liberation: Luis Diaz's father speaks out after abduction by Colombian guerrillas
In a heart-wrenching turn of events, Luis Manuel Diaz's father breaks his silence after being freed by a Colombian guerrilla group.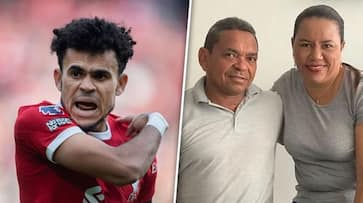 Luis Manuel Díaz's father has publicly spoken for the first time after being released by a Colombian guerrilla group. Mr. Díaz shared the harrowing experience of being forced to walk extensively with little sleep in a mountainous area during his captivity. In an emotional interview, he expressed the challenging nature of the situation, stating, "I would not want anyone to be in that mountain in the situation I was in."
The abduction took place on October 28 in Barrancas, Colombia, Mr. Díaz's hometown. During a news conference on Friday, the 58-year-old described the days of captivity as "very difficult." Colombian authorities have arrested four individuals, allegedly responsible for Luis Manuel Díaz's kidnapping, following a coordinated effort between Colombian and British authorities that led to the dismantling of a criminal group known as "los primos."
Initially, police had pointed to a criminal gang as the likely culprit, but later, a government delegation asserted "official knowledge" that a unit belonging to the National Liberation Army (ELN) carried out the kidnapping. The ELN, Colombia's primary remaining active guerrilla group, has been engaged in conflict with the state since 1964, boasting around 2,500 members. It is most active in the border region with Venezuela, where Luis Manuel Díaz and his wife reside.
The footballer's mother, Cilenis Marulanda, was kidnapped at gunpoint alongside Mr. Díaz but was released within hours. Throughout his father's captivity, Liverpool footballer Luis Díaz fervently called for his release. Just days before his father's liberation, Díaz scored a goal against Luton and used the opportunity to lift his shirt, displaying the words "freedom for papa" in Spanish.
The family's ordeal garnered widespread attention in Colombia, prompting residents of Barrancas to organize a candle-lit march advocating for Mr. Díaz's release. This incident unfolded amid ongoing peace negotiations between the Colombian government, led by President Gustavo Petro, and the ELN. President Petro has faced criticism from the opposition, with former Colombian president Álvaro Uribe asserting, "with kidnappings there can be no peace."
Last Updated Nov 13, 2023, 9:50 PM IST