Cristiano Ronaldo's brace leads Portugal to Euro 2024 Qualification Victory over Slovakia
In a thrilling match, Cristiano Ronaldo's exceptional performance propelled Portugal to a crucial 3-2 victory against Slovakia, securing their place in the highly anticipated Euro 2024 tournament.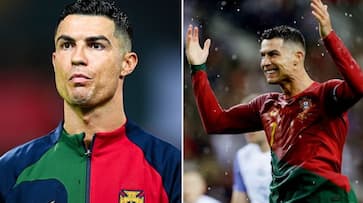 Cristiano Ronaldo netted a penalty in the first half and added another goal in the second half, ensuring Portugal's 3-2 victory against Slovakia in Porto on Friday and securing their spot at Euro 2024. This win marked their seventh consecutive victory in Group J, granting them 21 points and a guaranteed top-two finish. Portugal coach Roberto Martinez praised Ronaldo's exceptional performance, highlighting his valuable role as an experienced player and a role model for young talents. Slovakia sits in second place, trailing by eight points, with Luxembourg as their next opponent on Monday.
Portugal had a strong start to the game, with Ramos scoring in the eighth minute from a Bruno Fernandes cross. Ronaldo later capitalized on a penalty opportunity in the 29th minute, marking his 124th international goal. He further increased the lead by tapping in a cross from Fernandes for his 125th goal. Although Slovakia managed to score in the 69th minute and then again in the 80th minute, Portugal's earlier efforts were enough to secure their qualification for the Euros. Martinez praised the team's performance and emphasized the importance of the result, acknowledging their consistent determination throughout the qualifiers.
"We won the match with a very good first half," said Martinez.
"The important thing was the result. In seven games we've shown a perfect attitude. I'm very satisfied, but it's only a stage."
Also Read: Fact-Check: Cristiano Ronaldo did NOT wave Palestinian flag amid Israel-Hamas war
Last Updated Oct 14, 2023, 5:12 PM IST