Fact-Check: Cristiano Ronaldo did NOT wave Palestinian flag amid Israel-Hamas war
A video has gone viral on social media that claimed Portuguese star Cristiano Ronaldo is supporting Palestinians by raising their flag amid the ongoing war with Israel. However, Asianet News fact-checking team has found that the video is untrue and it is not the star CR7.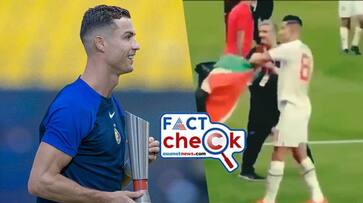 Did the Portuguese football legend Cristiano Ronaldo come out to support Palestine while the Israel-Hamas conflict was continuing? A video campaign on social media alleged that CR7 waved the Palestinian flag to support the people of Gaza. What is the truth? What is the truth?
On the social networking platform Twitter (X), a video of a lookalike of Cristiano Ronaldo raising the Palestinian flag while donning a white jersey went viral.
Many people believed that it was Cristiano Ronaldo in the video. On October 8, 2023, a post by M Hosaifa tweeted a video saying that King Ronaldo also supports Palestinian Muslims. Another tweet said that Cristiano Ronaldo is showing his support by waving the Palestinian flag after winning the match. You can see such tweets with videos from verified accounts too.
FACT:
However, the fact is that it is not Portuguese star footballer Cristiano Ronaldo in the video. The soccer player waving the Palestinian flag is Morocco's Javed El Yamiq. Yamiq's celebration in support of Palestine came after Morocco defeated Canada in the 2022 FIFA World Cup.
A keyword search revealed that this video was tweeted by the Twitter handle Middle East Eye. At a glance, it is clear that the star in this video is the same as the star in the now-viral video. It is not Cristiano Ronaldo who is seen waving the Palestinian flag, but Moroccan footballer Javed El Yamiq.
Last Updated Oct 13, 2023, 10:19 AM IST