Barcelona determined to secure Joao Felix permanently; Negotiations in progress with Atletico Madrid
Barcelona is actively strategising to secure Joao Felix on a permanent basis beyond his initial loan period, aiming to extend his presence at the club.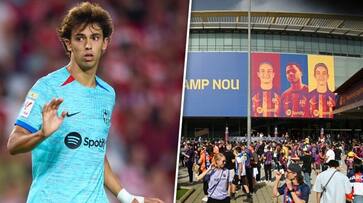 Journalist Ferran Correas has reported through SPORT that Barcelona is resolute in their determination to secure Joao Felix's long-term presence beyond his initial loan tenure. The Atletico Madrid forward has significantly impressed this season, prompting the Barcelona management to devise a strategic plan to persuade Atletico Madrid for a permanent deal at the end of the season.
"We have the entire season to prepare a proposal that allows us to keep Joao Felix. We are very happy with his performance, and he is a player that is very popular within all areas of the club," shared a source from Barça with SPORT.
Joao Felix, the 23-year-old forward, has showcased his prowess by contributing three goals and three assists this season, establishing himself as a formidable force in the attack. Deco played a pivotal role in facilitating this transfer, supported by Joan Laporta. As a result, Barcelona is firmly committed to securing Joao Félix's continued presence in the team for the upcoming season.
It is worth noting that in making the move to Barcelona, Felix made significant concessions. He renewed his deal with Atletico until 2029 before leaving in the summer, and he also reduced his salary substantially to €400,000 per year for this season at Barça. Despite financial constraints, Barcelona subsequently increased his yearly earnings to €4 million after the registration process.
Given the recent salary adjustments and Felix's stellar performance, the club, collaborating with Jorge Mendes, is formulating a comprehensive strategy to retain the Portuguese talent for the upcoming season. While Atletico Madrid's Diego Simeone is not in favour of retaining the player, negotiations with Atletico CEO Miguel Angel Gil Marin, seeking at least €80 million, pose a significant challenge. Considering Felix is under contract with Atletico until 2029, exploring options like extending the loan with a purchase clause is under consideration, considering the complexities related to Financial Fair Play.
Also Read: Jim Ratcliffe's nears acquisition of 25% stake in Manchester United, Outpacing Sheikh Jassim
Last Updated Oct 15, 2023, 7:01 PM IST