Andre Onana's crucial penalty save: A potential turning point for Manchester United (WATCH)
Andre Onana's composed penalty save in Manchester United's match against Copenhagen may hold the key to reversing recent struggles and boosting his confidence.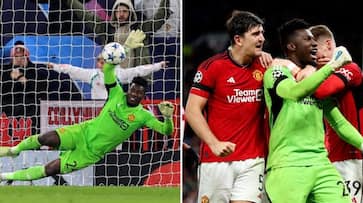 Andre Onana's moment of brilliance has the potential to serve as a catalyst, not just for reversing a recent run of difficulties, but for his own confidence and career at Manchester United. As Jordan Larsson prepared for the final kick, Onana appeared remarkably composed, standing amidst the chaos of instructions and pitch adjustments. This crucial penalty save in a match dedicated to Sir Bobby Charlton was not just about the win but also about Onana's desire to be the difference.
The deafening roar that followed the save indicated the significance of this moment in his United journey. Onana had been aware that he wasn't performing at his best, and his confidence had taken a hit. This situation had a parallel with David De Gea's decline, which began when he struggled to adapt to playing out from the back.
Onana's initial difficulties, related to team changes and unfamiliarity with his defenders, had similarly impacted his confidence. This penalty save could mark a turning point, helping to arrest the negative spiral and boost his confidence. The upcoming derby against Manchester City takes on added importance, where similar confidence challenges have been observed, such as Claudio Bravo's struggles after early mistakes. Onana's performance offers hope that a great moment in a big stadium can restore confidence and demonstrate his value to the team, securing an essential win for Manchester United.
Also Read: Jude Bellingham's sensational run continues with third Champions League goal for Real Madrid
Last Updated Oct 25, 2023, 1:42 PM IST