Dipa Karmarkar wants cash instead of BMW!
Dipa spoke to Times Now denying rumours about returning the BMW care.
Sachin presented Dipa, Sakshi Mallik and PV Sindhu a BMW each for making India proud at Rio.
Dipa missed a medal by a whisker at the Rio Games.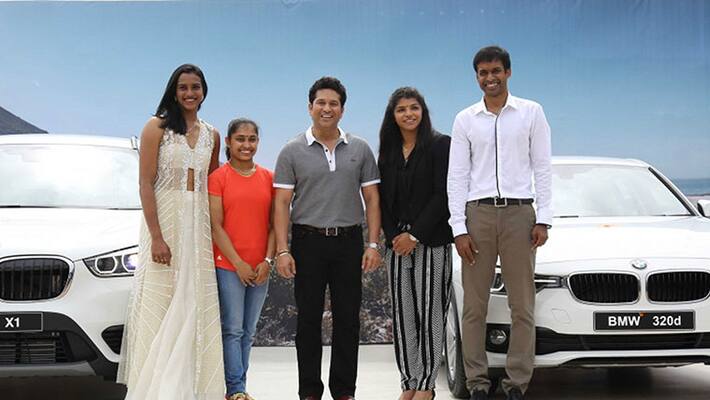 The artistic gymnast does not want to use the car in her hometown Agartala, where there is no BMW service centre and the roads are not well-maintained. 
Very thankful to Sachin sir for gifting me BMW but cannot maintain in tripura, so giving back. Thank you for agreeing to give funds for it.

— Dipa Karmakar (@DipaKarmakar) October 12, 2016
The Master Blaster along with Dipa also presented the posh car to India's two medallists at Rio - PV Sindhu and Sakshi Mallik.
However, contradicting Dipa's tweet, the Economic Times posted a video on Thursday morning which showed Dipa denying the rumours about giving back the BMW to Hyderabad Badminton Association. 
 
"It was a gift, and I was honoured for my performance so how can I return the car? I'm very happy and at the same time lucky that it was Sachin sir [Tendulkar] who gifted me the car," Dipa told Times Now.
Dipa's coach, Bisheswar Nandi, was quoted by Times of India earlier where he said returning the car was not Dipa's decision, but it was a collective call taken by him and Dipa's family. 
"It wasn't Dipa's decision. Rather it was a collective decision taken by her family and me. There are two main reasons behind it. First, there is no BMW service centre in Agartala, and secondly, the roads are not suitable to drive a posh car such as this.
"We have spoken to the concerned authority, and gladly, they have no problems with it. It was also suggested to them that if possible, they transfer the amount equivalent to the value of the car to Dipa's bank account. And if not, we will be happy with whatever amount they decide," he said.
Last Updated Mar 31, 2018, 7:07 PM IST