Rahul Dravid and Sourav Ganguly scored 318 runs together, the highest partnership at that time
Sourav Ganguly scored 183,then the second highest individual score and the third highest in the World Cup history
India's 373 for 6 were their highest score in the World Cup
Everything was going wrong for India and the then world champions Sri Lanka during World Cup 1999. India suffered a humiliating defeat at the hands of the then still important Zimbabwe and the 1996 WC winners Sri Lanka had lost to hosts England and were struggling in the tournament. The India-Sri Lanka encounter was a must win for both teams.
Opening the match for India were Sadagoppan Ramesh and Sourav Ganguly. In the second over, Chaminda Vaas played his legendary trick ball that hit S Ramesh's off stump. Rahul Dravid came in to bat and hit it off immediately. While Dravid scored his century with a run a ball, Ganguly played a slower game and scored a century on the 119th ball. But from that moment on Ganguly hit the ball to the boundary and scored another 83 runs in 39 balls.
Together, Dravid and Ganguly created a slew of records. The 318 runs scored by the two were the first such partnership in ODI matches and was the highest partnership at that time that was broken by Sachin Tendulkar and Rahul Dravid later that very year.  The previous record of 275 runs was set by Mohammad Azharuddin and Ajay Jadeja against Zimbabwe in 1997-98. Ganguly made 183 in 158 balls, then the second best in World Cup history, behind Gary Kirsten's 188 not out against the United Arab Emirates in 1996. India's 373 for 6 were their highest score in the World Cup until they made 413 for five against Bermuda in 2007.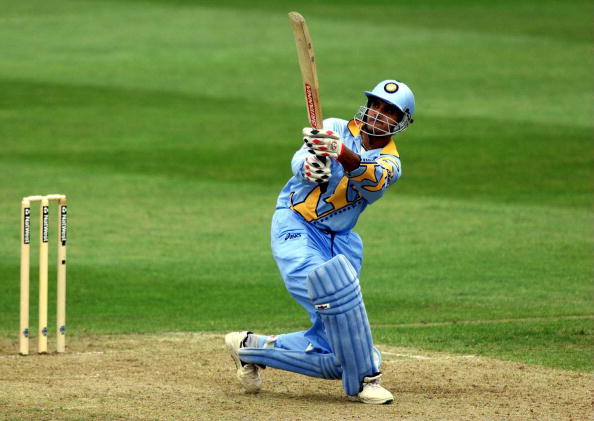 Sri Lanka started with some explosive batting by openers Sanath Jayasuriya and Romesh Kaluwitharana. But they were dismissed by the fifth over. Captain Arjuna Ranatunga and Aravinda de Silva scored 42 and 56, but there were far too many runs on the board for the Sri Lankan batsmen. India won by a huge margin of 157 runs. 
An important contribution that has been criminally overlooked is the five-wicket haul by Robin Singh. He was the second Indian after Kapil Dev to have taken five wickets in a World Cup match.