ODI World Cup 2023: Grant Bradburn attributes Pakistan's struggles to unfamiliar conditions
Pakistan's head coach, Grant Bradburn, sheds light on the challenges faced by the Pakistan in the Cricket World Cup.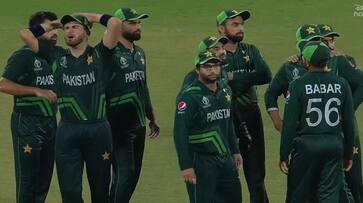 Pakistan's head coach, Grant Bradburn, attributed their disappointing World Cup performance to the unfamiliarity with the playing conditions in India. He pointed out that none of their players had previous experience at the tournament venues, making it a challenging situation for them. Their hopes of reaching the semifinals were hanging by a thread after suffering four consecutive defeats. To stay in the competition, they needed to win their remaining three matches convincingly and rely on other teams' results.
"We find ourselves in an unexpected position in this tournament. We aimed to have control over our fate at this stage, but unfortunately, we don't. This is a source of frustration for our team," Bradburn expressed ahead of their upcoming match against Bangladesh.
He emphasised that the World Cup was being played on unfamiliar foreign conditions for the Pakistan team, and every venue presented a new challenge for them. Bradburn mentioned that they had diligently prepared for their opponents and the various venues but admitted that the lack of familiarity with the conditions was a significant factor.
"We have thoroughly analysed our opponents and the venues we are playing in, and we are well-prepared for each match. However, the reality remains that every venue is new to us, and we do not feel disadvantaged in terms of our team's knowledge, quality, skills, and support," he stated.
Bradburn, who had previously served as Pakistan's fielding coach and consultant, took over as head coach on a two-year deal in May. He acknowledged that ideally, preparation for a tournament like this should start several years in advance, but they had adjusted their game plan in the last six months to play a dynamic style of cricket that suited the challenging conditions.
Regarding Pakistan's ICC rankings, which briefly had them at No. 1 before the World Cup and currently place them at No. 3 behind India and Australia, Bradburn argued that the ranking system was flawed. He pointed out that Pakistan didn't have the opportunity to play against India and many other top-ranked teams in their own home conditions recently, which skewed the rankings. He rejected the notion that Pakistan were pre-tournament favorites.
Bradburn stated, "I'm not sure where the idea of favourites comes from, as there are 10 teams in this tournament, and 150 cricketers participating who are among the best in the world. The ICC rankings are somewhat distorted due to the limited opportunities we've had against top nations who haven't visited Pakistan."
He also refused to blame the controversial DRS (Decision Review System) call for Pakistan's one-wicket loss to South Africa and acknowledged that they fell short by 20-30 runs in that match, despite their assessment of the challenging Chennai conditions. Bradburn assured that the team environment was positive and united, with players committed to bringing joy to their nation by playing an exciting brand of cricket for their fans.
Also Read: ODI World Cup 2023: Pakistan desperate to revive campaign as South Asian derby takes shape
Last Updated Oct 30, 2023, 6:04 PM IST