Vivo Pro Kabaddi League will start from July 28, 2017
Four new teams, Tamil Nadu, Uttar Pradesh, Gujrat and Haryana have been added to the league this season
Nitin Tomar was the highest bid player at Rs 93 lakh by Team Uttar Pradesh, Bengaluru Bulls made the second highest bid at Rs 81 lakh for Rohit Kumar
The Bengaluru Bulls is building a formidable squad before the season of Vivo Pro Kabbadi League 2017 begins on July 28. Bengaluru acquired Rohit Kumar, the second highest bid of the auction held on Monday, May 22, in New Delhi.
The Pro Kabaddi league's fifth season will have four new teams added to it. Team Tamil Nadu owned by Sachin Tendulkar, Team Uttar Pradesh owned by GMR Group, Team Haryana owned by JSW Jindal and Team Gujrat.
The new team from Uttar Pradesh made the highest bid on day one of the auction, buying Nitin Tomar for Rs 93 lakh against his base price of Rs 20 lakh. Bengaluru Bulls made the second highest bid of the day, buying Rohit Kumar for Rs 81 lakh. Bengaluru also bought champion defender Ravinder Pahal for Rs 50 lakh. Bengaluru has also retained all-rounder Ashish Kumar and raiders Harish Naik and Sumit Mallik.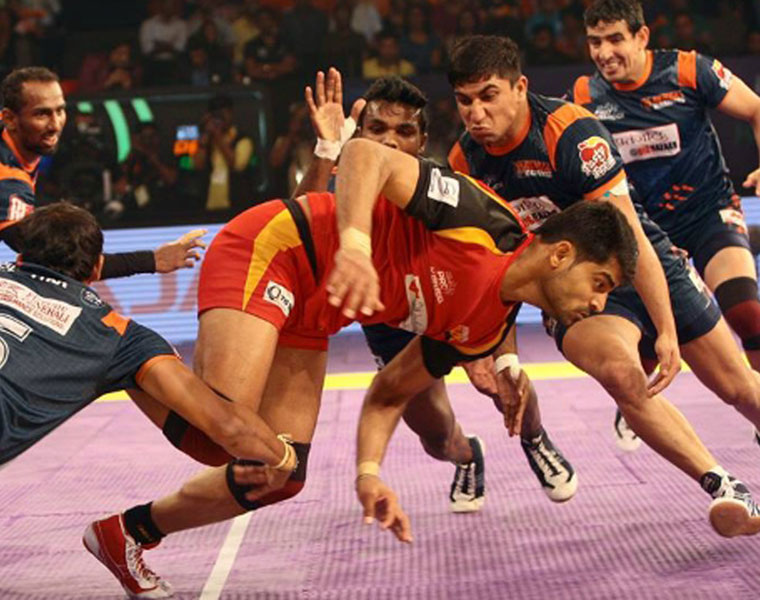 Nitin Tomar, highest bid player by Team UP, said, "It's a dream come true. All my family members are happy. I am grateful to Team U.P. for investing in me. This is quite exciting and motivating, and it shows my teams' belief in me. I am happy with the way the team is shaping up in the auction, and I look forward to an action-packed Season 5."
Iran's Abozar Mohajermighani was the costliest foreign buy in the Pro Kabaddi League players auction after he was bought by new franchise Gujarat for Rs 50 lakh.
The player's bidding prices have increased by 626 percent since the first season's auction with a total price of Rs 27.27 crore for 60 players selected.
The Bengaluru Bulls now consists of defenders Ravinder Pahal, Pradeep Narwal, Kuldeep Singh and Mahender Singh, raiders Sunil Jaipal, Rohit, Harish Naik, Sumit Malik, Ajay Kumar, Rohit Kumar, Sinotharan Kanesharajah, Gurvinder Singh and all-rounders Preetam Chillar, Ashish Kumar, Amit, Ankit Sangwan and Sanjay Shrestha. Round two of the auctions will take place on May 23.