New BCCI president Thakur to take Lodha recommendations head on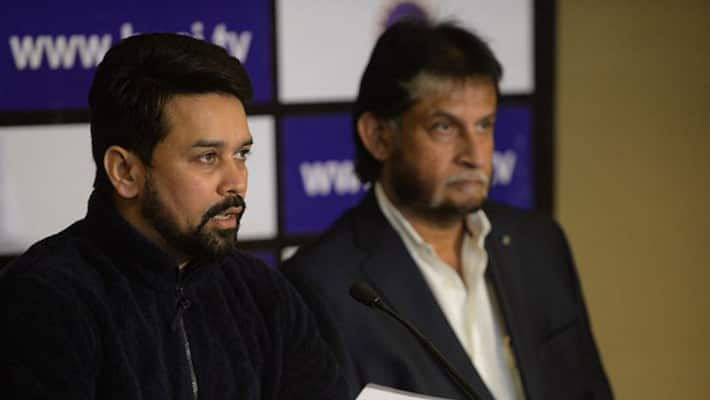 Newly-elected President Anurag Thakur today vowed to carry on the reforms process in the BCCI, insisting that the Board would not run away from implementing the "practical"  recommendations of the Supreme Court-appointed Lodha Committee.
 

Addressing the media after taking over unopposed as the BCCI President, Thakur faced a barrage of queries on the recommendations which have been resisted by the Board so far.
The 41-year-old, who is the second youngest BCCI President, said he is prepared to confront the situation head on.
"Where there is a challenge, there is an opportunity, it all depends on one's perspective. I see an opportunity that this is the time to deliver," asserted Thakur when asked whether he is prepared for the turbulent times ahead given the sweeping reforms recommended by the apex court's panel.
"We are not running away from Lodha committee recommendations but we are in favour of using recommendations which are practical. We have already done reforms much before Lodha Committee recommendations. We understand our responsibility towards the most popular sport in the country," he said.
Yesterday, his predecessor and ICC Chairman Shashank Manohar had stated that the Indian Board had already implemented 75 per cent of the Lodha panel's recommendations for sweeping reforms but had reservations on a few which, he felt, were not good for the game.
Thakur echoed the sentiment and insisted that the BCCI has always run as a professional body even though no institution can claim to be perfectly run.
"I am grateful to Mr Manohar for expressing his views. He is a seasoned administrator. He has also expressed that how 100 per cent implementation of recommendations won't be feasible.
"The world knows how effectively run our Board is. We have tried to mend our ways. There are always areas to improve," he said.
Last Updated Mar 31, 2018, 7:06 PM IST