Ballon d'Or 2016 will be given to the best performing player of 2015.
Leo Messi won the Ballon d'Or was last year for a record fifth time.
Since 2008, it has either been Messi or Roanldo with the golden ball.
The 2016 edition will be treated as the 61st award being presented by France Football. The Ballon d'Or is awarded based on votes from international journalists and national team coaches and captains, who select the players they believe to have performed the best in the previous calendar year.
Since 2008, either FC Barcelona star, Messi  (2009, 2010, 2011, 2012 and 2015) or Real Madrid's Ronaldo (2008, 2013 and 2014), have bagged the award.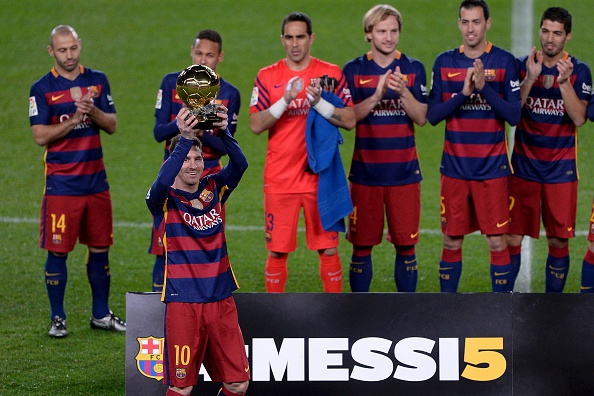 Leo Messi has won Ballon d'Or for a record five times © Getty Images
The last time a player other than these two held the golden ball was Brazil's midfielder, Kaka, who then represented Italian club, AC Milan.
While FC Barcelona clinched a treble - La Liga, Champions League, Copa Del Rey - in the 2014/15 season, they missed on the European Champion in the previous season. That trophy went to Real Madrid's cabinet, taking their count to a record 10 Champions League titles.
With every passing year, Messi and Ronaldo keep getting better and the healthy rivalry on-field reaches a new level each time.
While Messi's four consecutive Ballon d'Or awards from 2009 to 2012 almost ended the debate about who the better player was among the two, the Portugal skipper struck back hard by reclaiming the title for the next two years.
Ronaldo with a Champions League trophy and Euro 2016 victory with Portugal, seems the clear favourite for the golden ball this time. His success with his country has given him an edge over Messi, who failed to win the Copa America 2016 final for Argentina.
Here is the list of trophies Messi and Ronaldo bagged in 2015/16:
Messi - La Liga, Copa Del Rey, Club World Cup and UEFA Super Cup.
Ronaldo - UEFA Euro, UEFA Champions League
Messi vs Ronaldo stats (club football in 2015/16 season):
| | | | |
| --- | --- | --- | --- |
| Name | Appearances  | Goals | Assists |
| Leo Messi | 49 | 41 | 23 |
| Cristiano Ronaldo | 48 | 51 | 15 |
What if it is neither Messi nor Ronaldo?
There is a candidate who could surprisingly rout these two - French man Antoine Griezmann.
Griezmann's phenomenal run guided his club Atletico Madrid to the UEFA Champions League final and France to the final of Euro 2016. On both occasions, he had Ronaldo in the opposition. And it was the 31-year-old Portuguese, who came out as a winner.
Ronaldo's Real Madrid defeated Atletico Madrid in the penalty shootout in the Champions League final. And while Ronaldo was out retired hurt, his country still managed to beat home favourites, France in the final of Euro 2016.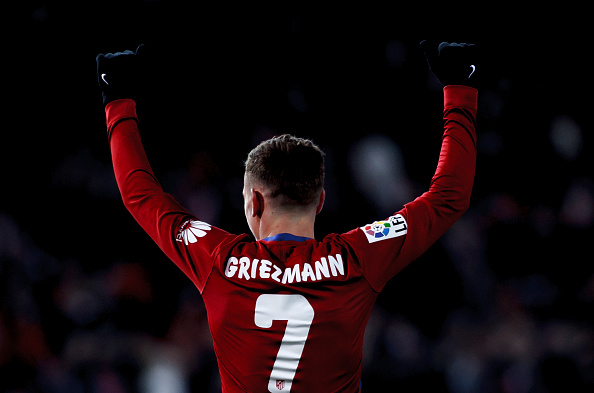 Antoine Griezmann © Getty Images
Meanwhile, in La Liga where Atletico Madrid finished third, three points behind champions Barcelona, Griezmann scored four goals less than Messi's 26.
Another footballer who had a pretty decent last season was Messi's Blaugrana teammate Luis Suarez.
Suarez won the Golden Shoe ahead of Messi and Ronaldo for top-scoring in La Liga's goal charts for the 2015/16 season.  The Uruguayan netted 40 goals while Messi and Ronaldo had 26 and 35 goals to their account.
2016 Ballon d'Or shortlist:
Sergio Aguero (Manchester City), Pierre-Emerick Aubameyang (Borussia Dortmund), Gareth Bale (Real Madrid), Gianluigi Buffon (Juventus), Cristiano Ronaldo (Real Madrid), Kevin de Bruyne (Manchester City), Paulo Dybala (Juventus), Diego Godin (Atletico Madrid), Antoine Griezmann (Atletico Madrid), Gonzalo Higuain (Juventus), Zlatan Ibrahimovic (Manchester United), Andres Iniesta (Barcelona), Koke (Atletico Madrid), Toni Kroos (Real Madrid), Robert Lewandowski (Bayern Munich), Hugo Lloris (Tottenham Hotspur), Riyad Mahrez (Leicester City), Lionel Messi (Barcelona), Luka Modric (Real Madrid), Thomas Muller (Bayern Munich), Manuel Neuer (Bayern Munich), Neymar (Barcelona), Dimitri Payet (West Ham), Pepe (Real Madrid), Paul Pogba (Manchester United), Rui Patricio (Sporting Lisbon), Sergio Ramos (Real Madrid), Luis Suarez (Barcelona), Jamie Vardy (Leicester City), Arturo Vidal (Bayern Munich).