Asian Para Games 2023: Shuttler Suhas Yathiraj strikes gold in Men's SL4 event; WATCH winning moment
Para-shuttler Suhas Yathiraj clinched yet another gold medal for India in the ongoing Asian Para Games 2023 with a win in the Men's SL4 category finals in Hangzhou, China, on Friday.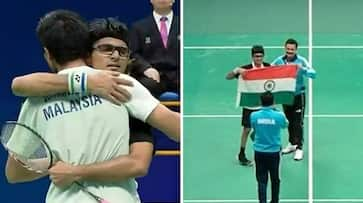 India's golden run at the Asian Para Games 2023 continued on Friday with shuttler Suhas Yathiraj clinching the nation's 23rd gold medal in Hangzhou, China. Paralympics medalist Suhas Yathiraj achieved a significant milestone by being crowned the Asian Para Games Champion in the Men's SL4 finals. In a thrilling contest, the 2007 IAS officer secured a remarkable victory by defeating Malaysia's Amin in a hard-fought match that extended to three games. Notably, this win marked Suhas's first triumph against his Malaysian opponent, as he had faced two previous losses in their encounters.
Earlier today, Indian para-shuttler Thulasimathi Murugesan achieved a remarkable feat by securing a gold medal in the women's SU5 category at the ongoing Para Games. She triumphed over China's Yang Qiuxia with a scoreline of 21-19, 21-19, demonstrating her exceptional skills and determination on the badminton court.
In another thrilling para-badminton final, Pramod Bhagat added to India's gold medal tally by defeating compatriot Nitesh Kumar in a closely contested Men's SL3 category match. Bhagat's victory came with a score of 22-20, 18-21, 21-19, showcasing his prowess and resilience in the sport.
Meanwhile, para athlete Raman Sharma set a new Asian and Games record in the men's 1500m T38 event, securing a gold medal with an impressive finishing time of 4:20.80 minutes. 
Notably, India's golden run at the Asian Para Games 2023 continued on Friday with archer Sheetal Devi earning her second gold medal in the sporting event. She triumphed over Singapore's Alim Nur Syahidah with a score of 144-142 in the women's individual compound open event, reinforcing her status as a dominant force in para archery. 
On Thursday, Indian para-athletes achieved a historic milestone by surpassing their previous record at the Asian Para Games, securing more than 80 medals in the 2023 edition. This remarkable feat exceeded the nation's 2018 medal tally of 72, signifying India's strong performance in the prestigious event held in Hangzhou, China.
"A monumental achievement at the Asian Para Games, with India bagging an unprecedented 73 medals and still going strong, breaking our previous record of 72 medals from Jakarta 2018 Asian Para Games! This momentous occasion embodies the unyielding determination of our athletes. A roaring ovation for our exceptional para-athletes who have etched their names in history, filling every Indian heart with immense joy. Their commitment, tenacity and unwavering drive to excel are truly inspirational! May this landmark accomplishment serve as a guiding light, inspiring future generations," wrote PM Narendra Modi following this record-breaking feat.
Last Updated Oct 27, 2023, 2:20 PM IST