Asian Games 2023: Want my medal back, says Swapna Barman after Nandini Agasara's bronze in women's heptathlon
Swapna Barman, who narrowly missed a bronze medal in the heptathlon at the Hangzhou Asian Games, has voiced concerns about her compatriot Nandini Agasara, who won the bronze. Barman's comments on social media suggested that Agasara may be a transgender athlete, raising questions about eligibility.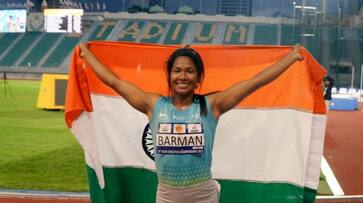 Indian athlete Swapna Barman has raised concerns about the women's heptathlon bronze medal winner, Nandini Agasara, at the Hangzhou Asian Games. In the competition, Swapna Barman finished fourth in the heptathlon, narrowly missing the bronze by just four points. 
Nandini Agasara secured the bronze medal with a total of 5712 points, while Swapna earned 5708 points. The gold in the heptathlon event was claimed by China's Ninali Zheng with an impressive 6149 points, while the silver went to Uzbekistan's Ekaterina Voronina with 6056 points.
In a social media post on X (formerly Twitter), Swapna Barman did not mention anyone by name, but her remarks were seemingly directed at Nandini. She expressed her displeasure, stating, "I have lost my Asian Games bronze medal to a transgender woman at the 19th Asian Games held in Hangzhou, China." She further appealed for support, saying, "I want my medal back as it is against the rules of our Athletics. Help me and support me please. #protestforfairplay."
Swapna Barman's concerns stem from the latest World Athletics regulations, which came into effect on March 31 of that year. These rules prohibit individuals who have undergone what World Athletics terms 'male puberty' from participating in women's competitions.
Swapna also mentioned that she had previously raised objections regarding Nandini, particularly after the Telangana-based athlete scored 5700 points in her first competition at the Inter-states before the Asian Games. 
She expressed her surprise at Nandini's inclusion in the Asian Games roster and noted that federation officials had encouraged her to raise the issue again, emphasizing that only doctors could verify such matters. She appealed for assistance in this regard.
Last Updated Oct 2, 2023, 11:15 AM IST