Asian Games 2023: The Impressive Indian Contingent at Hangzhou (WATCH)
Over 12,000 athletes from 45 nations are competing in 61 disciplines, including India, whose contingent displayed traditional attire. Indian Hockey Team Captain Harmanpreet Singh and boxer Lovlina Borgohain served as the flag bearers.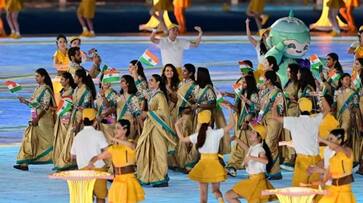 The 19th edition of the 2023 Asian Games has officially kicked off in Hangzhou, China, with a vibrant opening ceremony presided over by Chinese President Xi Jinping. This two-week extravaganza features over 12,000 athletes from 45 nations and territories competing in 61 different disciplines. The Indian contingent proudly showcased their traditional attire, with women donning sarees in shades of brown and men wearing kurtas with green straps.
Leading the Indian team as flag bearers for the event are Indian Hockey Team Captain Harmanpreet Singh and boxer Lovlina Borgohain. Harmanpreet Singh is renowned for his exceptional skills as a drag-flicker and played a pivotal role in securing India's historic Bronze medal at the Tokyo 2020 Olympics. Lovlina Borgohain, on the other hand, is a reigning world champion in her weight category, an Asian champion, and an Olympic bronze medallist in boxing.
The Indian contingent is comprised of 921 individuals, including 655 athletes, 260 coaches, and support staff, ready to compete at the highest level of sporting excellence.
Notably, the 19th Asian Games features three mascots, all of which are robots collectively named 'Memories of Jiangnan,' in dedication to a poem by the renowned Tang dynasty poet Bai Juyi. These robots, known as Chenchen, Congcong, and Lianlian, represent Hangzhou's rich culture and heritage.
The glittering opening ceremony marked the beginning of this continental showdown, taking place at the Hangzhou Olympic Sports Center Stadium, also known as the Big Lotus. Originally designed as a football arena in 2018, this venue can accommodate up to 80,000 spectators, setting the stage for an exciting and memorable Asian Games.
Last Updated Sep 23, 2023, 6:56 PM IST