Asian Games 2023: Indian Men's skeet team clinches bronze; Women's team misses podium
The Indian men's skeet shooting team, composed of Angad Vir Singh Bajwa, Gurjoat Khangura, and Anant Jeet Singh Naruka, secured a commendable bronze medal at the Asian Games, demonstrating their shooting prowess with a total score of 355 points.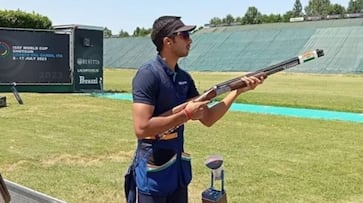 The Indian contingent, consisting of Angad Vir Singh Bajwa, Gurjoat Khangura, and Anant Jeet Singh Naruka, proudly secured the team bronze medal in the fiercely competitive men's skeet event during the Asian Games held on a Wednesday. With a collective total score of 355 points, this talented trio showcased their prowess and determination, earning them a well-deserved spot on the podium and further solidifying India's strong presence in the world of shooting sports.
Although the Indian men's team claimed the bronze, it was the host nation, China, that emerged victorious, clinching the gold medal. Meanwhile, Qatar exhibited exceptional performance to secure the silver medal, making it a tightly contested and thrilling competition.
On the other hand, the Indian women's team faced a challenging battle in the shotgun skeet event, ultimately finishing in fourth place. Despite their valiant efforts, they narrowly missed out on a podium finish, with Kazakhstan, China, and Thailand securing the top three spots in the event.
The Asian Games continue to be a platform where athletes from across the continent showcase their incredible talents and dedication to their respective sports. India's continued dominance in shooting sports is a testament to the country's commitment to excellence in the international arena, and these achievements undoubtedly add to India's impressive medal tally at the ongoing games. As the competition unfolds, we eagerly await more thrilling moments and outstanding performances from the Indian contingent, who consistently make their nation proud on the grand stage of the Asian Games.
Last Updated Sep 27, 2023, 11:45 AM IST