Asian Games 2023: Historic bronze for India in Equestrian as Anush Agarwalla shines in individual dressage
With a bronze-winning effort, Anush Agarwalla created history on Thursday by becoming 1st ever Indian to win a medal in Dressage (Individual) event of Equestrian at Asian Games.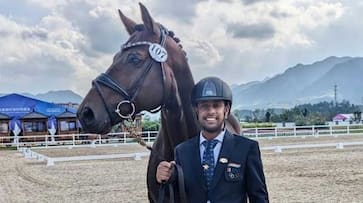 In a historic achievement for Indian equestrian sports, Anush Agarwalla secured a bronze medal in the Dressage Individual Final of the Asian Games 2023 in Hangzhou, China, on Thursday marking a significant milestone in the country's equestrian history. With this feat, he became the first ever Indian to secure a medal in the Dressage individual event of equestrian at Asian Games.
Riding atop Etro, Agarwalla exhibited a commendable performance, earning a score of 73.030, which landed him in the third position. This achievement marked Agarwalla's second medal win at the Asian Games.
The gold medal in the individual dressage event was claimed by Bin Mahamad Fathil Mohd Qabil Ambak of Malaysia, who achieved an impressive total score of 75.780. Meanwhile, Jacqueline Wing Ying Siu of Hong Kong clinched the silver medal with a score of 73.450.
Unfortunately, Hriday Vipul Chheda, another Indian contestant who had excelled in the qualifying rounds on Wednesday, faced elimination and did not have the opportunity to participate in the medal competition.
Prior to this individual success, Anush Agarwalla had also contributed to India's glory by joining forces with Chheda, Divyakriti Singh, and Sudipti Hajela to secure the dressage team gold, marking a historic achievement after 41 years.
Last Updated Sep 28, 2023, 3:06 PM IST