Asian Games 2023: Aishwary Pratap Tomar wins silver in Men's 50m Rifle 3P; impressive medal haul continues
In yet another impressive display by Indian shooter at the Asian Games 2023, Aishwary Pratap Singh Tomar secured a silver medal in the men's 50m rifle 3-positions event on Friday in Hangzhou, China.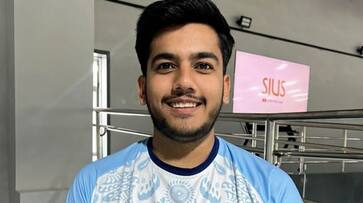 India's Aishwary Pratap Singh Tomar narrowly missed securing a gold medal, settling for a silver in the men's 50m rifle 3-positions event at the Asian Games 2023 held in Hangzhou, China, on Friday. On a day filled with shooting successes for India, including two gold and three silver medals, China's Du Linshu delivered an exceptional performance, setting an Asian Games record score of 460.6. This outstanding performance denied the 22-year-old Aishwary the top spot on the podium.
Aishwary's final score was 459.7, securing him the silver medal. Home team marksman Tain Jiaming claimed the third spot with a score of 448.3.
One of the most significant disappointments of the day was experienced by veteran Indian marksman Swapnil Kusale. Despite leading for a considerable part of the finals and aiming for a seemingly certain gold medal, his performance took a dramatic downturn with a score of 7.6 in one of his shots. This unfortunate outcome saw him plummet from the number one position to fifth place in the 'standing position.' Despite a strong finish with scores of 10.5 and 10.1 in his last two shots, he could only manage a fourth-place finish.
Nevertheless, Aishwary had a successful outing at the Asian Games, returning home with satisfaction. He secured gold medals for the 10m air rifle and 50m rifle 3-positions team events, in addition to an individual bronze in the 10m air rifle and a silver in the 50m rifle.
Indian shooters showcased their best-ever performance at the Asian Games, accumulating a total of 18 medals, including six gold medals. This achievement surpassed their previous record at the Doha Asian Games in 2006 when they won a total of 14 medals.
Last Updated Sep 29, 2023, 1:20 PM IST