Youth stages protest after girl rejects him for 'drinking problem'
The man was supposed to marry a girl this month.
The family but called off the wedding.
All because of his drinking habits.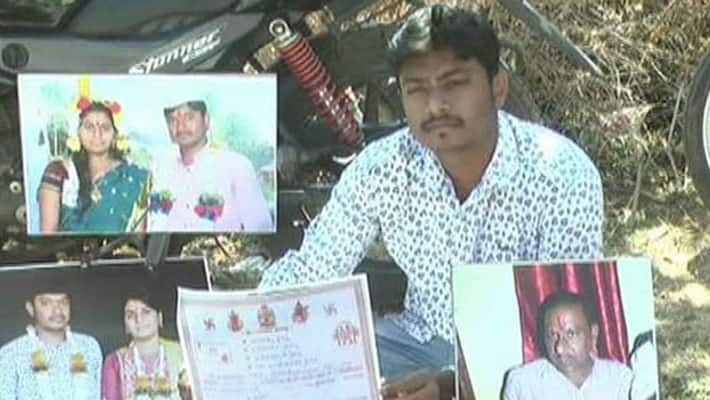 The youth, Sachin, sat in front of the girl's house along with enlarged copies of his engagement photos . The incident took place in Channakeshavanagar, Dharwad.
According to Sachin, the girl and the boy were in love for the last seven years and both the parents had agreed their marriage. Recently they had celebrated marriage engagement and had booked the marriage hall also.
But now 8 days before the marriage, Priyanka's parents are saying that their daughter is not interested in Sachin.
Sachin alleges that the parents of Priyanka have brainwashed her saying that his house is small, he is working as a driver and that she'll not have a good married life with him. He also alleges that they are looking for another bride groom for the marriage.
However Priyanka's mother tells totally a different story- "Yes, we had arranged marriage but we did not know about his character at that time. We rejected the marriage not because he's poor or he lives in a small house. He has a drinking problem. Often in the night he used to make phone call to our daughter in inebriated state. Hence our daughter herself has rejected him"
Last week Priyanka's parents have met the police inspector of Upanagara Police station and have explained everything to the police. The police called him to the station and took assurances from him that he'll not disturb Priyanka in future.
But on Friday he appeared at the door of Priyanka's house and carried out a Dharna in front of the house exhibiting the betrothal photos.
Now the parents of Priyanka are worried the actions of the boy will affect the girl's future.
The Upanagara police later came to the spot by evening and took him under their custody. He was but let off with a warning, the police said.
It is known fact that liquor breaks the families and marriages but Sachin case has proved that it can break betrothal also.
Last Updated Mar 31, 2018, 6:53 PM IST