Police suicide: Raghavendra laid to rest, probe ordered
Circle Inspector Raghavendra was found shot dead on his seat in Malur Police Station
SP Divya Gopinath says they have found a death note and suspect suicide
Slain Raghavendra's brother files a complaint, says it is murder
His final rites were performed at a farm in Kolar, today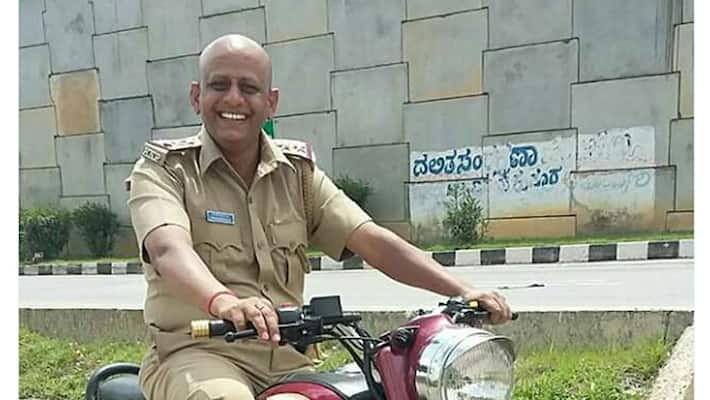 Circle Inspector Raghavendra,44, was found dead in the Malur police station in Kolar on Tuesday, killed by a gunshot. The primary reports indicate suicide, but his family alleges murder 
His body was handed over to the family after the post-mortem conducted at Kolar hospital. Raghavendra hailed from Narasapur in Kolar, he was a 2003 batch police inspector

Raghavendra returned to the Malur police station in Kolar late last night after his regular rounds. In the morning his body was discovered slumped over on his chair in the police station, with a gunshot to the head.
A preliminary examination indicated suicide, with the inspector's own service revolver being the weapon.
Reacting to Raghavendra's death, Superintendent of Police Divya Gopinath said that he returned to the police station at 2 am and shot himself from his service revolver on the forehead. Gopinath also said that the police had found a death note (which has not been released to the media).
However, the inspector's family alleges a different tale. Raghavendra's brother Manjunath has filed a complaint with SP Divya Gopinath that the death was not suicide but murder.
Amid a sea of rumours, sources claimed that the inspector had been facing pressure from the sand mafia and his higher officers as well. Sources also claimed that he had pressure from his family too.
Raghavendra had worked as Sub Inspector of Police from 2012 to 2014 at Sarjapur Police Station in Anekal, in the outskirts of Bengaluru.
He was raided by the Lokayukta in 2014 and was arrested following the raid. Raghavendra had spent a week in the Parappana Agrahara (Central) Jail in this regard. Later, he was given a clean chit and was reinstated as circle inspector in Kolar.
Meanwhile, Central Zone IGP Seemanth Kumar has directed a probe into Raghavendra's death. The statements of the staff in the police station will be noted by the probe team.
"SP Divya also has nothing negative to say about Raghavendra. We will try to find out why he came to police station in the wee hours of Tuesday," Seemanth Kumar said.
Last Updated Mar 31, 2018, 6:41 PM IST