Yechury blames BJP, RSS for post-poll violence in Kerala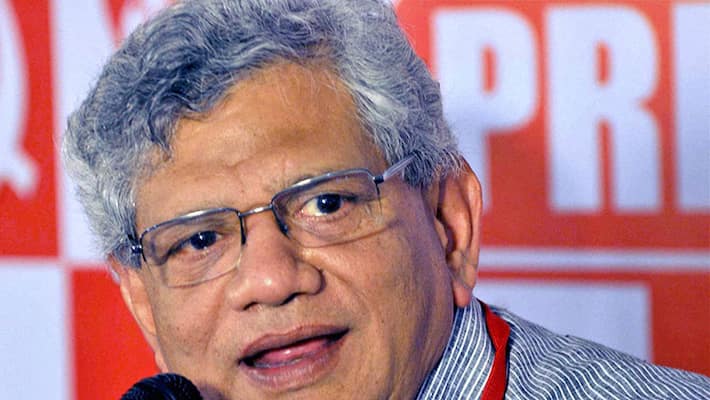 Yechury said BJP should accept the verdict of people in Kerala and stop spreading false propaganda to destablise the law and order situation in Kerala.
"The CPI(M) very strongly condemns the attacks and vandalism the BJP has organised. It is the BJP and RSS workers who started this bout of violence by attacking a victory procession," party leader Sitaram Yechury alleged.
"This has happened across the state. The BJP is simply not willing to accept the democratic verdict of the people of Kerala," he told reporters on Sunday.
The Left party claimed that allegations against its workers were "false" and BJP leadership was adopting a "hypocritical and dishonest position" about what has happened in Kerala.
Its reaction came on a day BJP workers staged a demonstration outside the CPI(M) headquarters in New Delhi over the alleged attacks on party workers in Kerala and a party delegation, comprising Union Ministers Nitin Gadkari, JP Nadda and Nirmala Sitharaman, several lawmakers and Kerala BJP president Kummanam Rajasekharan, met the President over the issue.
The CPI(M) politburo, meanwhile, asked BJP to ensure that its Kerala unit "stops making such attacks and issuing threats to it" and said the Left Front will contribute to maintaining peace and avoiding clashes.
"The BJP is levelling false allegations about violence by the CPIM) against its workers in Kerala. The BJP leadership is adopting a hypocritical and dishonest position about what has actually happened in Kerala. On May 19, when results were declared, CPI(M) workers took out a victory procession in Pinarayi.
"This procession was attacked by the BJP-RSS workers resulting in the death of CV Raveendran, a 53-year-old member of the CPI(M). His son Jishen and four others were injured," it said citing more instances of violence allegedly by BJP workers.
"The people of Kerala gave a resounding verdict in favour of the LDF," the statement said, alleging that "it is against this democratic verdict of people that BJP launched attacks in various places against the CPI(M) and LDF workers".
Such attacks will not be tolerated by the people, it said.
Last Updated Mar 31, 2018, 6:44 PM IST