Worker made to manually clean Karnataka police's septic tank!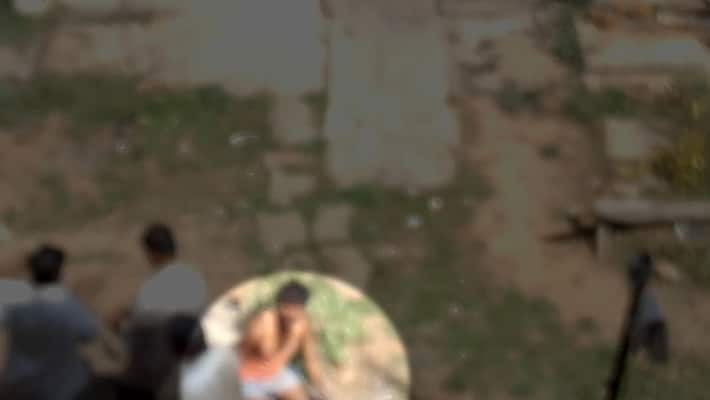 With the death of four people recently in Doddaballapura, Bengaluru Outskirts, fingers are being pointed at the Karnataka Social Welfare Minister H Anjenaya for failing to check the practice of manual scavenging.
At such a time, a shocking video has emerged from the premises of the Karnataka State Reserve Police (KSRP) 4th battalion. In the video, a D Group worker is seen getting into a manhole to clean it manually.
A group of activists approached Karnataka State Human Rights (KSHRC) Commission Chairperson Meera Sexana on Monday and handed over a compliant to initiate action against senior officials at KSRP for forcing the D Group worker into the septic tank.
Dalit leader and human rights activist T Narasimhamurthy launched a scathing attack against the Karnataka government and said,"The government said that it believes in uplifting the downtrodden, but repeated incidents of manual scavenging is making it very evident that this assurance by the government to protect the interests of the SC/ST is false,"
A well placed source from the KSRP said that 92 D Group workers are recruited in each battalion, but most of them are forced to serve family members of senior police officials.
"The sanctioned posts like sweeper, cooks, bearer and dhobi are forced to serve family members of senior officers. In a worst case scenario, when the septic tank was blocked in the KSRP quarters here a person named Basavaraj, who is a group D worker, was asked to get inside the manhole and clean it."
"Due to fear of delay in promotions in coming years, such victims remain silent and take such humiliations," the source added.
Human Rights activist Sudha Katwa also lashed out at the government and senior police officials in the KSRP.
"There is a Supreme Court direction that no person shall be used to clean septic tanks and to do such jobs only machines have to used. However such violations are taking place and what is worse is that they are happening in the police department. Hence a complaint has been filed before the KSHRC. A complaint will also be filed at the jurisdictional police station under the anti-scavenging act," she said.
Meera Sexana Chairperson of the KSHRC termed the incident as very unfortunate.
"There is ban on such practice. These type of acts should not happen anywhere. I have sent a notice to the ADGP, KSRP Kamal Panth to take steps in this regard. I will be visiting the KSRP to get more details on the issue" she said.
ADGP Kamal Panth said the police department will respond to the notice.
Last Updated Mar 31, 2018, 7:02 PM IST