Will stand guard to protect people of Kerala, says VS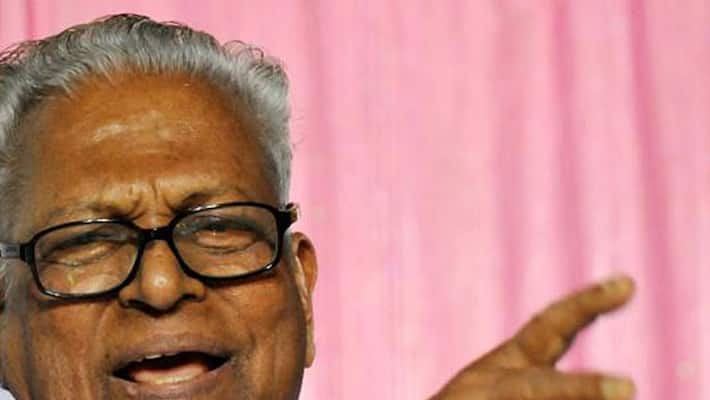 Speaking to media persons for the first time after he was sidestepped by the Communist Party of India Marxist (CPM) after a highly successful poll campaign spearheaded by him, VS Achuthanandan said that he was not after power or position. 
"I will stand guard to the people of Kerala," the veteran Communist promised.  "I will continue to raise my voice for the people," he added.
He thanked the people and media of Kerala for supporting the Left Democratic Front (LDF) to come to power. The response of the people during the election campaign through out the state showed how much they value the left. Governance of LDF will be entirely different from that of the UDF, VS said. 
"I will stand guard to the people of Kerala," VS Achuthanandan
In response to a question on his position in the party and in which party committee he belongs, now, Achuthanandan said that he is a member of the Central Committee of the CPM. He read out a press release that thanked the people of Kerala and attacked the outgoing UDF government. 
The LDF fulfilled its responsibility as a constructive opposition and was successful in exposing the UDF government. I will stand by the people and continue to raise their issues, Achuthanandan said.
Also read: Pinarayi's surprise visit an hour before Achuthanandan's press meet
The CPM leader also criticised the UDF government and said everyone was aware of various scams and corruption committed by the previous government. Even the kids are aware of bar scam, Solar case, land scams and other issues.  The UDF destroyed the public sector and traditional industries in the state.   
People expect LDF government to conduct an honest and transparent probe in various scams and scams like solar, Pattoor, land grab, bar bribery, etc. They also expect the LDF to solve Jisha murder and to complete Kochi Metro and Kannur Airport projects on time. I am thankful to all people for giving us this opportunity, VS said.
Also read: It's Pinarayi for CM, Achuthanandan is Castro of Kerala: Yechury
"I will be in Thiruvananthapuram," he said allying speculations that Achuthanandan might shift to his home town in Alappuzha. "You don't have to come to Alappuzha to meet me. I will be very much here," he added. Achuthanandan evaded questions on denying him the post of Chief Minister. 
Last Updated Mar 31, 2018, 6:41 PM IST