VK Sasikala has been slowly consolidating her position after Jayalalithaa's death.
She was appointed as the general secretary of the AIADMK last month.
Now she will be elevated as the AIADMK supremo and Tamil Nadu CM.
Over a month after she took charge as AIADMK General Secretary following Jayalalithaa's demise, VK Sasikala was today elected legislature party leader, paving the way for her to become the Tamil Nadu Chief Minister.
        
At a meeting of party MLAs here, Chief Minister O Panneerselvam proposed the name of Sasikala as legislature party leader. 62-year-old Sasikala, also called 'Chinnamma' and Jayalalithaa's shadow in public for nearly three decades, later drove to the party headquarters where she was greeted by Panneerselvam and senior party leaders.
        
"It was Panneerselvam who had first persuaded me to become the chief minister and general secretary as well when Jayalalithaa passed away," Sasikala told party legislators.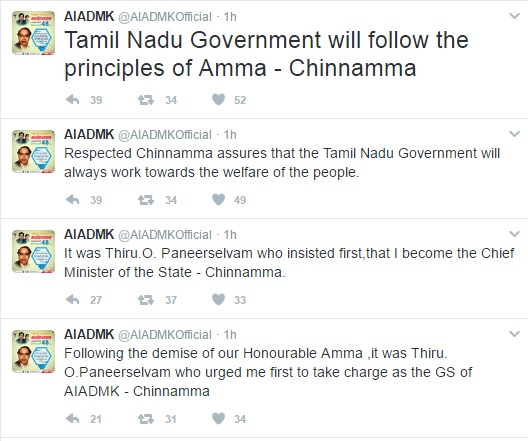 With her elevation, which comes over a month after she took charge as AIADMK general secretary on December 31, Sasikala carries on the legacy of Jayalalithaa, who also held the two posts allowing her to wield complete control on the government and the party.
     
Prior to the meeting, Panneerselvam had arrived at the Poes Garden Residence to meet Sasikala. After being elected legislature party leader, Sasikala said the AIADMK would strive for the welfare of the people of Tamil Nadu.
        
When Jayalalithaa was at the helm, Sasikala was considered to yield a huge clout behind the scenes. After taking charge of the party, she had pledged to take forward the legacy of the former chief minister.
        
Ever since Jayalalithaa's death, there has been a clamour that Sasikala should follow the earlier practice of both the party general secretary and the chief minister's post being vested with the same person.
        
Senior party leader and Lok Sabha Deputy Speaker M Thambidurai is among those who have backed Sasikala for the Chief Minister's post. In December last year, four state ministers had asked Sasikala to become the Chief Minister, besides AIADMK General Secretary.
     
A resolution to this effect was passed at a meeting of Tirunelveli Urban Jaya Peravai (Forum), led by state AIADMK secretary and revenue minister R B Udhayakumar on December 17.
    
On February 3, Sasikala had appointed senior leaders, including some former Ministers and a former Mayor, to key party posts.