This is where Bengaluru gets its veggies from?
Daily 2000 tonnes of vegetables is brought to Bengaluru.
All of it is sold within 24 hours.
Bengaluru has a population of 1.20 crore.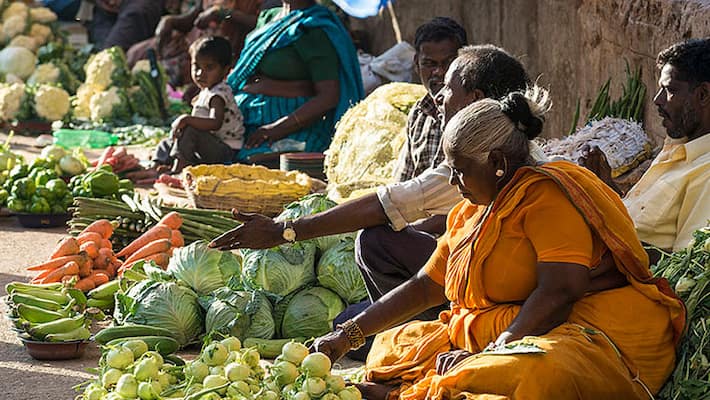 As the IT capital of India, Bengaluru has grown phenomenally. From a mere 257 sq kms area, it has now grown into a  853 sq kms bustling city. And to keep its 1.20 crore population fed, the city on a daily basis gets around 2,000 tonnes of vegetables.
But have you ever wondered how it gets all the way here? Asianet Newsable traces the journey of how these veggies arrive into the Bengaluru markets.
According to Dr Nagaraj, Joint Director, Horticulture Department over 2,000 tonnes of vegetable is supplied every day from different places within the state and sold within 24 hours. Cold storage facilities are limited only to a few supermarkets which are into exports.

Agriculture Produce Marketing Committee, which has set up yards in different places in city can get over 4,000 bags of various vegetables. 
Madivala Market, KR Puram, Market, Malleswaram Market area where a large quantity of vegetables are supplied, can get about 100 tonnes.
Chandrashekar, the supervisor of APMC yard at Kalasipalaya, said the Kalasipalaya has the capacity to get 300 tonnes that these vegetables are sourced from primary markets in , Hoskote, ,Doddaballapur, Aneka, Malur  Mandya, Mysore, Ramnagar, Chickballapur, Magadi, Sidlaghatta, and Kanakpura. Similarly there are other markets that fall under APMC. 
The vegetables are auctioned and the amount is given to farmers on the spot.
Horticultural Producers' Cooperative Marketing and Processing Society Limited (HOPCOMS) that also facilitates farmers to sell its products in Bengaluru Urban and Bengaluru Rural with its outlets HOPCOMS, presently covers Bengaluru Urban, Kolar, Chikkaballapur, Ramnagar and Bengaluru Rural gets about 90 tonnes of Vegetables.
"Tomato comes in abundance from Kolar district. Similarly, flat beans (avarekai) is supplied from Chintamani, Srinivaspura and Ramnagar. When it comes to greens, Anekal supplies over one tonne every day," says Balkrishna, Managing Director of HOPCOMS.
Commercial crops like onion, potato and garlic are directly transported to APMC yard.
Farmers in Hoskote grow onions, which is mainly supplied to HOPCOMS. The onion which is cultivated in places like Chitradurga, Bellary and Gadag is supplied to APMC at Yeshwanthpur as they fall under the commercial category.
No Middle Man
Hulnache Gowda from Kolar who owns 15 acres of land where he grows 40 varieties of vegetables. Cattle like sheep, goats, cows and country chickens are raised to cut down on fertiliser expenses.  
Around one tonnes of vegetables are produced in a month and sold in the markets of Malleswaram, BTM layout and Sadashivnagar. Vegetables like carrot, beetroot, beans and bitter gourd generate good income for the growers.
"We are also directly selling our produce to software firms and are getting good returns. The public gets fresh vegetable and we get income,"said Gowda
Some of the vegetables that are grown in abundance various parts of Karnataka.
Tumkur, Kolar, Mulbagal, Devanahalli, Doddaballapura is major hub for beans, Hoskote, Narsapur, Malur, Anekal produces more Beetroot, vegetables like Cabbage, Capsicum, Carrot, Cucumber are produced in large quantity in Hassan, Doddaballapura, Chickballapur, Malur, Mulbagal, Pandavapura, Hoskote, Mandya, Ramnagar. 
Similarly, Flat beans (avarekai),Tomato Ladys finger, Ridge gourd (heerekai), Potato are produced in abundance in places like  Kolar, Chintamani, Srinivaspura, Hassan, Mysore, Hoskote, Doddaballapur and Chickballapur .
Last Updated Mar 31, 2018, 6:40 PM IST