Letter against Nikesh Kumar: Only routine procedure, says VS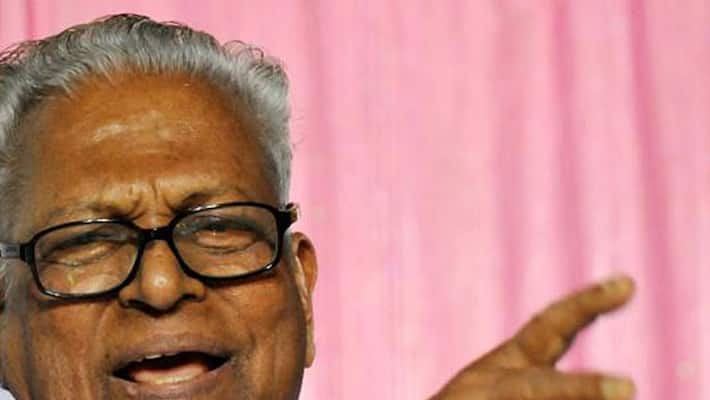 After his letter demanding a probe against Left Democratic Front (LDF) candidate MV  Nikesh Kumar in a cheating case created confusion in the Left camp, Communist Party of India- Marxist (CPM) leader V S Achuthanandan has come up with an explanation. Achuthanandan clarified that the letter to DGP T P Senkumar was only a routine office procedure.    
In his letter dated 8 March 2016, Achuthanandan had sought an inquiry against the journo-turned-politician and his wife Rani Varghese in a cheating case. 
"The letter only requested to conduct an honest investigation into the complaint," Achuthandan clarified. It only demanded the police to charge a case if they found any substance in the complaint.  "There is nothing controversial in this. There are ulterior motives behind bringing up the letter at this juncture," Achuthanandan said. 
In the letter to the DGP, Achuthanandan had attached a copy of the complaint filed by Lali Joseph, a native of Thodupuzha in Idukki district. Joseph complained that Nikesh Kumar and his wife took Rs.1.5 crore from her, promising to make her the director of Indo-Asian News Channel, but cheated her by denying equity shares. 
Nikesh Kumar, who is contesting from Azhikode in Kannur as LDF-independent, had stated in his affidavit submitted to election officials that he had more than fifty cases pending against him. 
Meanwhile, Reporter Television, in which Nikesh Kumar served as Managing Director, explained that the cases mentioned in the affidavit pertained to the debt incurred by the company.  A press release by the television channel also stated that Nikesh Kumar was in no way related to these issues personally.
Last Updated Mar 31, 2018, 6:56 PM IST