Vishal Krisha 'busy' man has no time to get married in 2016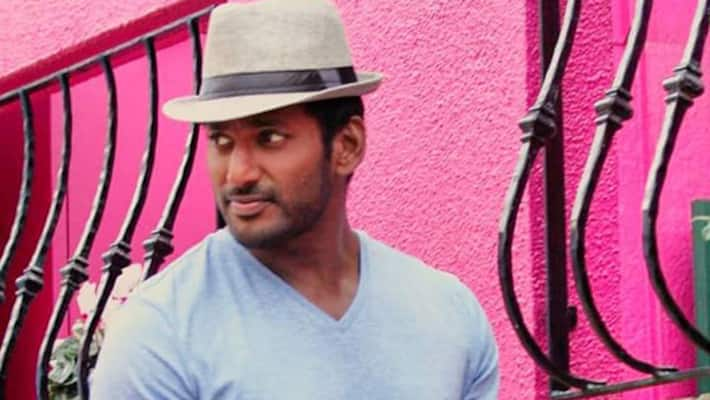 Vishal seemed to be everywhere in 2015, not just his films, but, social media, philanthropic activities, Nadigar Sangam elections and its campaign activities.
Wining Nadigar Sangam elections at its General Secretary was a milestone he had achieved. 
The decade year old actor in the film industry has had two releases in 2015, Aambala and Paayum Puli, both involving him as a producer too.
The period of self-promotion
Vishal agreed that the bygone year saw him busy promoting himself. Vishal who used to do one film a year, started churning out films once he launched his own banner, Vishal Film Factory.
"It's right that it ever since Pandiyanaadu, my first production release, I have been busy promoting myself," said the actor.
He believes the most important thing when he produces films is that he takes extra liberty on the spending money aspect of it.
"The last two years have seen me acting in my production. These days if you go to see, almost every actor is also a producer. Every hero seems to have his own production banner."
The year in progress with movie releases
Vishal's first release in 2016 was Pandiraj's Kathakali, his co-production with Pandiraj.
 
"Kathakali released simultaneously in Tamil and Telugu.
 
Marudhu will be a summer 2016 release.
 
Sandakozhi 2 was in the pipeline but it was called off recently.
According to Vishal, certain filmmakers are lacking commitment towards projects and that it's better that actors stick to acting and directors should stick to directing.
'Madha Gaja Raja' and its future
It has been almost three years now and Vishal's delayed release Madha Gaja Raja, directed by Sundar C has not yet seen the light of the day.
"Every year I keep asking myself this very same question, whether the film will release this year. Generally the common expression in such cases will be 'God only knows'.
No cameos but one for Arya
"No, I don't do cameos predominantly. This one I did for Arya for Vasuvum Saravananum Onna Padichavanga."
He has a 'love life'! He just loves everybody in his life.
Vishal is usually very direct in his responses and approach. Thought asking about his relationship with Varu (Varalaxmi Sarathkumar) and their marriage prospects were ideal to be dropped in the middle of the conversation; Vishal said: "Varu and I have been very close friends.She still is my best friend."
"There is no special someone in my life right now."
 "I am definitely not getting married in 2016. Maybe later. Maybe next year I will see. I am too occupied now to think about these things. If you ask me if I have a love life, yes I do have one. I love everybody in my life."
The friction factor
Coming to the friction between Vishal and Sarathkumar, and Radikaa – Nadigar Sangam Elections, 2015 was phenomenal in itself.
The formation of the Pandavar Ani comprising Vishal, Nassar, Karthi, Karunas and Ponvannan, and the Pandavar Ani gathering support from fellow artistes of the film fraternity.
The spurt of allegations against each other, campaigns, all of it made headlines on a day to day basis. For the first time, a judge was made to moderate the elections.
Commenting on his friction between the former Nadigar Sangam chief, Sarathkumar, Vishal says, "We can't call friction as such. We as a team raised questions before the Nadigar Sangam elections. And now after the elections, we raised more questions.
We are demanding rightful answers to our questions. Because when you hold a position, you need to do justice to that."
Aide for Simbu?
Regarding his stand on the Beep song controversy and supporting Simbu, on behalf of the Nadigar Sangam, Vishal said: "I spoke to Simbu personally. We have done our bit. The matter is in the court, and we cannot convene anything as such. But they (Simbu and family) have decided to go to the court and face it legally."
Watching dad realise his passion
For Vishal, who has been occupied with films and his productions, life has become all the busier with Nadigar Sangam activities now.
In his leisure time, he either watches films or is busy with Nadigar Sangam. There is one more reason for happiness in his life – and that is his father GK Reddy venturing into acting.
Vishal's dad will be seen in the Kannada remake of Mysshkin's Pisaasu. Vishal said: "I am so happy for my dad that he has pursued what he wanted to do. He has patiently done his responsibilities and then ventured into his first passion."
Penchant for roles with disorders
Vishal seems to have a penchant for character roles with disorders. When asked him about this, he just laughed. In director Bala's Avan Ivan Vishal plays a squint.
In Naan Sigappu Manithan, he plays a character suffering from Narcolepsy. In Pandiyanaadu too he plays a character with a disorder.
Vishal laughed out and said: "Actually there's nothing like that. It's not a conscious decision. It gives me that extra mile to perform. It gives me the challenge to mould my body language according to what the character demands. Avan Ivan has been a benchmark in my film career. There has been a post-Avan Ivan and a pre-Avan Ivan. It has been a defining moment in my career as an actor. What I was before and what I am now are very different. My film journey of ten years has been very fruitful. At the end of it all, I am proud of what I am and the lessons I have learnt."
No feeling is final for him
Vishal has seen highs and lows in his career; when asked about what he learnt out of it all he said: "It made me sit up and take stock of what was not going right. For a while, I sit and think about what could be done or what went wrong, But I can never stick to one issue or one particular emotion for more than half a day, whether success or failure."
Last Updated Mar 31, 2018, 6:53 PM IST