Watch: shocking video of man being kidnapped
Arun, son of notorious gangster was kidnapped on October 31
Police arrested eight-member gang who abducted the youth but is still clueless about Arun
Hawala deals of Arun's father, Kodali Sreedharan, led to the kidnapping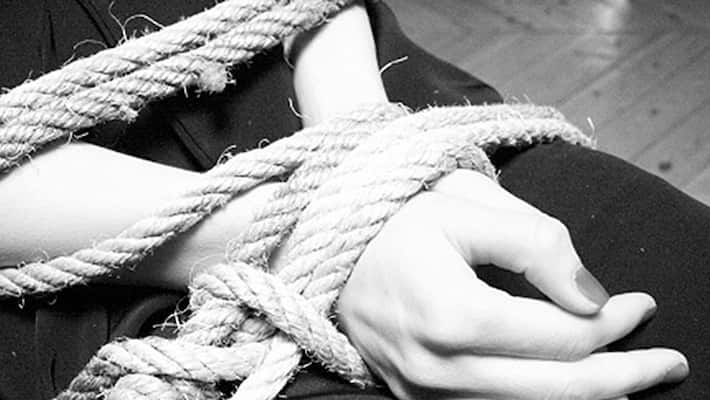 It has been over three weeks, and Kerala police is still clueless about the whereabouts of the son of notorious gangster who was abducted from his house. An eight-member gang kidnapped Arun, 32, son of most wanted gangster Kodali Sreedharan alias Panikkavalappil Veettil Sreedharan, from his house at Kadamunda in Kothamangala on October 31. 
 
On Sunday, a video, suspectedly shot by the kidnappers, surfaced on media. The video shows three faces, blindfolded Arun in the middle and two others.  The police identified the person on the right side of Arun as Kozhikode Koduvally Ariyil Mustafa and on the left as Thottunkara Rafeeq, both members of a rival gang. 
 
Though police arrested Rafeeq, Mustafa and other gang members, who kidnapped the youth, they are still clueless about Arun. The arrested said another rival gang kidnapped the youth from Mysuru where they had held him in restraint. 
 
Sreedharan, who went in hiding soon after the kidnap of Arun is still in contact with his family members and gang members. Police suspect that hawala deals of Sreedharan led to the kidnapping. 
 
The notorious criminal has more than 50 cases against him, including murder, dacoity and hawala transactions. The gangster, who has often boasted about his strong links with the ministers of Karnataka and Kerala. Police arrested him in 2009 for allegedly murdering Paul M Muthoot, the scion of Muthoot Group of companies. However, court acquitted him of murder charges.  
Last Updated Mar 31, 2018, 6:44 PM IST