VHP stirs Azadi row at Kochi Biennale, brands Kashmiri artists anti-nationals
VHP alleged that Kashmiri students chanted Azadi during their art performance.
The Hindu brigade filed a complaint with the police.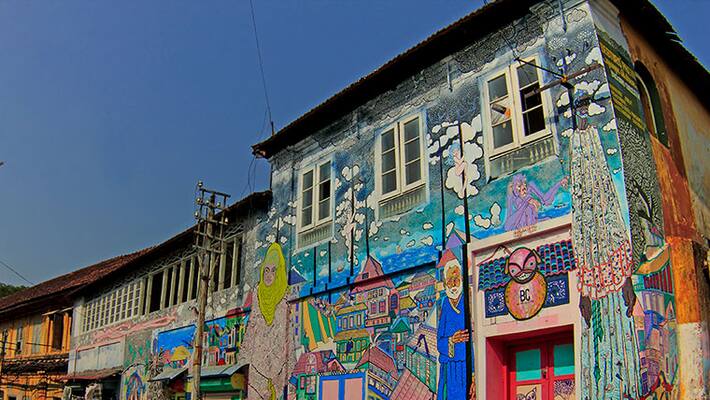 The Vishwa Hindu Parishad (VHP) took to streets in Kochi on Saturday alleging that Kashmiri participants in the Kochi-Muziris Biennale (KMB) chanted Azadi slogans during art performance. The far right Hindu brigade marched to the office of the KMB, the biggest art ensemble being underway in Fort Kochi, demanding that the organizers should desist from what they called 'anti-national' activities. 
 
Also watch:  Mind-blowing Kochi Muziris Biennale videos
Kashmiri artists at Biennale
The VHP protest was triggered by the rumours that fine arts students from Kashmir University chanted Azadi during their performance on Saturday. Kashmiri student artists had enacted a brief performance as part of the Biennale in which they tried to depict the chaotic life and times of the valley. One artist covered himself in newspaper clippings while others recited poetry from the valley. The spectators were provided with paper eyeglasses full of holes to show how difficult it was to 'read' poems from Kashmir even though we could 'see' them. They also smoked Kashmiri chillies, and the spicy smoke troubled many, effectively symbolising the daily life of Kashmiris riddled with pellet guns and tear gas shells.
On Saturday, some VHP activists took out a march to KMB office and alleged that the Kashmiri students shouted Azadi and freedom from India. Even though the officials, the students and the audience stated that they did not raise anti-national slogans and Azadi was used in a general context. 

 
Aryakrishnan, curator of the Student Biennale, a segment of KMB, told Times of India that the students were talking about freedom which everyone wanted. 
"You have to look at it from their context. After all, these students could not go to college for six months. For them, at the moment, they want the freedom to go to college," she was quoted as saying. 
However, the VHP filed a complaint with Fort Kochi Police. The police have heightened vigil in the whole area fearing an escalation. 
 
 
 
Last Updated Mar 31, 2018, 7:06 PM IST