Vaiko stuns party workers, opts out of poll race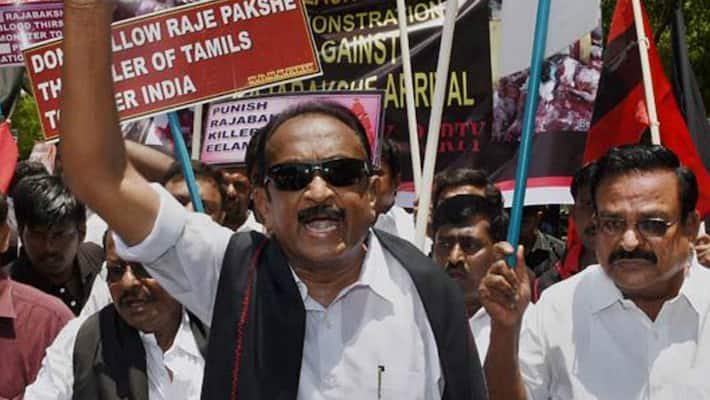 Vaiko opted out of May 16 assembly poll race alleging the DMK was planning to create caste violence.
He, however, vowed to work hard for the victory of the front of which his party is a key constituent. The announcement stunned his supporters who had thronged to hear him speak from open-top propaganda van here as Vaiko had earlier announced his decision to contest from the Kovilpatti segment after a hiatus of two decades.
Vaiko alleged the "plan" was to "create violence" between the "Thevar and Naicker communities" in the constituency. He said the violence, according to the plan, "would be centred on him", a remark seen as an implied reference to his Naicker caste.
"I also came to know that the district secretaries (Tuticorin and Virudhunagar) of the party encouraged the violence idea and I was terribly grieved, Vaiko opined about DMK.
"My heart swirls in pain and I shudder to even think of caste violence targeting me," he said, adding "against this background since I realise that communal rage will ruin the future of Tamil Nadu, I have decided to not contest the Assembly elections."
Though his supporters appealed to him not to do so, Vaiko gestured to them to be silent. He named MDMK functionary Vinayaka Ramesh as the party candidate for the Kovilpatti constituency, which was won by an AIADMK candidate in the 2011 polls.
However, Vaiko vowed to slog for the victory of the DMDK-PWF-TMC alliance in the polls. He also said he would dedicate the rest of his life for the welfare of the Tamil people, eradicating the menace of alcohol consumption and for an "Independent Tamil Eelam (separate homeland for Lankan Tamils)".
Last Updated Mar 31, 2018, 6:36 PM IST