Vaiko hopes to end losing streak at Kovilpatti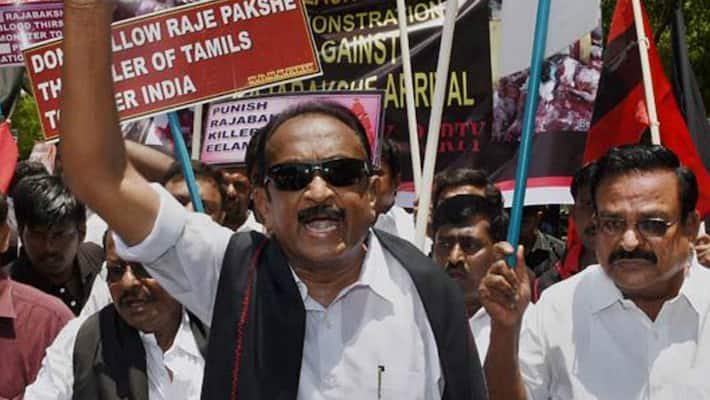 The Marumalarchi Dravida Mnnetra Kazhagam (MDMK) chief Vaiko has decided to jump into the Tamil Nadu Assembly electoral fray after 20 years. Vaiko and elections usually don't get along very well because the marketplace for his brand of politics--a mix of fiery oratory, hyper Tamil nationalism, long padayatras, cycle-sojourns, and little policy substance--has shrunk in the state.
Vaiko will try his luck this time from the Kovilpatti constituency. MDMK cadres claimed, as cadres must, that the decision was a morale booster, not just for the party, but also for the People's Welfare Front (PWF) alliance of which Vaiko is the self-proclaimed Krishna-like 'master strategist' plotting to make the Arjuna-like Vijayakanth win and ascend to the chief ministerial throne.
After his exit from the DMK in 1993, Vaiko has managed to win electoral contests only twice--both as part of the NDA in 1998 and 1999. His MDMK's voteshare in the 2014 general elections was a paltry 3.5%, and Vaiko himself lost, yet again.
Meanwhile, the party today named its nominees in 27 seats, which includes its chief Vaiko. Of the 29 seats it has been allotted in the DMDK-PWF combine, MDMK named candidates for 27 and gave away two seats from its kitty to its allies, fringe Tamil nationalist outfits.
Last Updated Mar 31, 2018, 6:32 PM IST