More than 4,600 people participated in the unique tree-hugging event.
The event was organised jointly by Asianet News and JNTBGRI

People from all walks of life poured into the sprawling bio-diversity rich premises of Jawaharlal Nehru Tropical Botanical Garden of India (JNTBGRI) from the morning on Tuesday to participate in the unique tree-hugging event 'Ente Maram, Ente Jeevan' (My tree, My life) and to set a new world record. They erupted in joy as the representative of the Guinness Book of World Record declared it a world record event of maximum people hugging trees simultaneously.
The 'Ente Maram, Ente Jeevan,' easily crossed the existing record of the largest tree hug set by Tata Chem DAV Public School, Mithapur in Gujarat on 3 December 2016. Only 1,316 people had participated in the event then.  Each participant was required to hug the tree continuously for one minute.

'The record to break was 1316. Final number today is 4,620. A new world record has been set," Rishi Nath, Guinness World Records Adjudicator, announced. He also handed over the official certificate to Frank P Thomas,Asianet News Business Head . 

As many as 4793 persons had participated in the collective tree-hugging event to break an earlier record set by the Tata Chem DAV school. But some people were eliminated in the final assessment. But that did not stop 'Ente Maram, Ente Jeevan' event from setting a new Guinness World Record.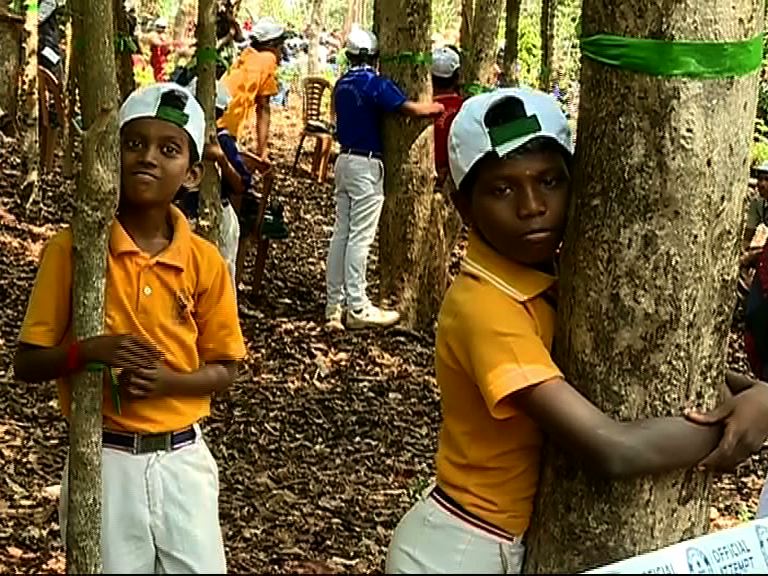 Besides setting a new world record, the event organized by Asianet News in collaboration with JNTBGRI on the International Day of Forests, stressed the need for protecting the forests and environment. The participants took the pledge to conserve forests and protect trees. As a token of their resolve, they carried home saplings presented by the organizers.
Governor P Sathasivam inaugurated the event in the presence of hundreds assembled in the TBGRI. The Governor also hugged the tree along with more than 3,700 participated in the unique event. "This is a very meaningful event," Sathasivam said. "I saw small children hugging trees. This is a new beginning."  He congratulated Asianet News, the TBGRI and the hundreds who participated in the event. 


Earlier, Minister for Forests A Raju inaugurated the registration of participants in the morning. Artists, singers and social activists were present at the function to express solidarity with the participants.

The sprawling garden reverberated with songs and music in praise of environment. Even though the organizers were expecting nearly 2,000 participants, the registration crossed 3,000 half at 10.30 am.
Students of Al Iqbal College, Peringamala guided the participants into designated plots in the garden. Experts from the JNTBGRI were present  at each plot to assist the representative of the Guinness Book of World Records.