Uneasy calm prevails as familes leave violence-hit areas in Tanur
Tanur DySP told Asianet News that there was a clear conspiracy behind the incidents in Tanur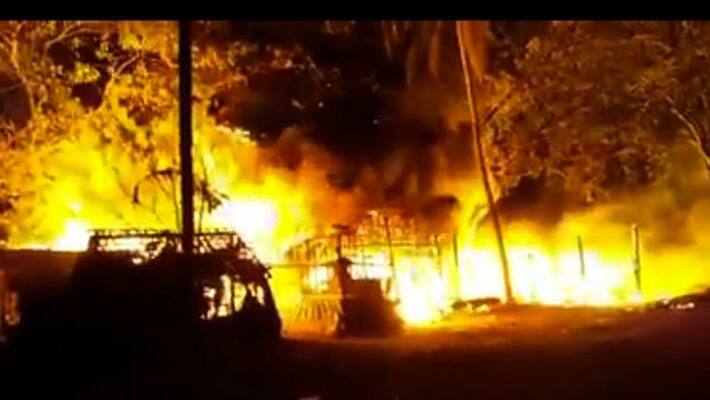 Even though the Chief Minister and the police claimed that everything was under control in Tanur, which witness arson and violence on Sunday night, people are leaving the coastal area in Malappuram fearing the after-shocks of the CPM-Muslim League violence. Most of the men had left Chappakkudy and Ottumpuram in Tanur by Monday and woman and children are leaving their homes fearing another round of violence where the clash between the two parties worsened into a riot-like situation. 
Local people blamed the police for escalating the violence and unleashing terror in the area under cover of establishing peace. More than thirty houses were set on fire and dozens of vehicles damaged in the violence that began on Sunday night and continued till Monday morning. 
Meanwhile, the police denied the allegations. Tanur DySP told Asianet News that there was a clear conspiracy behind the incidents on Sunday night. He also alleged that the local people tried to shield the miscreants when the police tried to catch them. 
Nearly hundred families in the locality have left their homes, despite a heavy deployment of police continues high vigil in the area. Shops and business establishments remain closed in the area. The lower primary school in the locality functioned, but with a very low turn out students. 
The local CPM and Muslim League leadership had blamed the police for escalating the situation and terrorising families. The BJP blamed the police and CPM for the incidents in Tanur and alleged that the Communist party was trying to fan up Hindu-Muslim riot under cover of political violence. 
Tanur Violence:

The violence started at 10 pm on Sunday continued till early morning next.
police fired in the air to disperse the agitated crowd, but failed to contain violence.
More than 30 houses were destroyed and set ablaze by miscreants.
Many injured including 13 police officers.
Fishing boats, nets and outboard engines were set on fire.
250 pigeons reared for pigeon- racing were burnt to death.
Police have taken 34 persons into custody in connection with the mob violence
Last Updated Mar 31, 2018, 6:40 PM IST