Two days after son's funeral, Karnataka CM back to work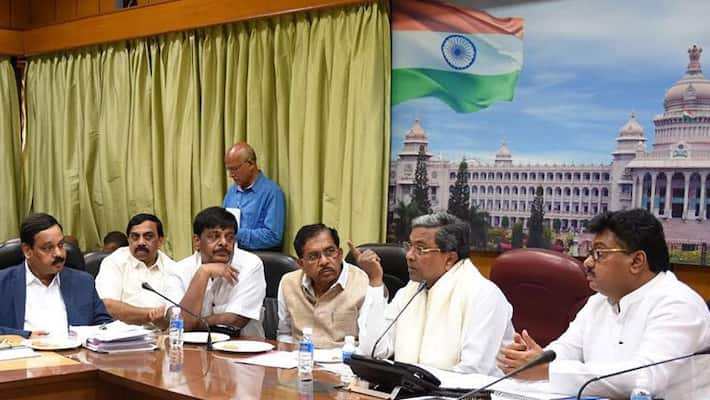 Siddamaramaiah convened the meeting on the backdrop the havoc caused by rains in Bengaluru City and directed officials to clear encroachments on stormwater drains.
CM also sought a report on the encroachment of government lands including lake, tank bed, stormwater drains across various layouts, like Due Layout, Anugraha Layout, and Akshay Nagar.
In three days, a detail report on encroachment, encroachers and names of those officials  who were responsible should be submitted to the Urban Development Department Additional Chief Secretary, he stressed.
In the meeting, Siddaramaiah announced a ₹150 crore fund to address rain-related emergencies.
Works pending on lake projects, sewage diversion, road work, storm water drain cleaning and repair caused havoc during the heavy rain. I have directed the BBMP to return with proper estimation so that funds can be released and works can be expedited, he said.

He warned the officials against 'armchair work' during emergencies and said, "Officers concerned should rush to the spot whenever a complaint is registered. Instead of holding meaningless discussions, come up with practical solutions.  Ensure all those affected are rehabilitated and make sure such disasters do not occur."
CM stressed on the need to maintain pothole-free roads and said, "Use ward grants to make roads pothole-free and clear the silt from stormwater drains. If ₹160 crores is not sufficient, come with a proposal and I will clear it. Make sure the city does not suffer a similar fate in coming days," he said and added that the contractors and engineers should be held equally responsible for bad roads.
CM further stated that the Advocate General had filed objections against the stay on clearing encroachments. Once the court gives clearances, the CM assured that the remaining encroachments would be sorted out.
In Bengaluru City, 1,001 encroachments were recorded around lakes and stormwater drains.
"Once the court gives permission, hurdles in about 75 major development works will be cleared. For these 75 works, BBMP will be spending ₹140 crore," the official report indicated. 
On Mahadayi and lathi-charge at Yamanur
Chief Minister Siddaramaiah also discussed the Mahadayi water dispute issue. The water resources minister will hold a meeting with advocate Fali S Nariman on August 5. Following this, an all-party meeting will be convened on August 7. MPs and MLAs of the concerned four districts affected will be called and their suggestions will be taken. 
 
"During my absence, lathi-charge incident was reported in Yamanur. Home minister has taken necessary steps and has suspended the police officers responsible for the lathi-charge. Higher officials have been appointed to look into the complaints filed post lathi-charge.  No women have been arrested, however I am pained to see elderly people and women were assaulted," the CM said.
On Bomb Blast at Mysuru Court:
CM Siddaramaiah said that an IB team has visited Mysuru. "Once we receive reports from them, the government will be able to draw a conclusion. Meanwhile, I have directed the police department to be alert. Shopping malls, bus shelters, court, and other prominent places have been put under surveillance," he added. 
Last Updated Mar 31, 2018, 6:56 PM IST